A bird's eye view of Newham's green future
London may well be one of the world's mega cities, but the theme of Earth Day resonates no less strongly here than with people who live and work in less urban environments.
The belief that we have a responsibility to put time, effort and energy into considering how we can minimise our impact on the environment and take a multigenerational view of design certainly informs all aspects of our work in the capital and the Manor Road Quarter, which we are delivering in Canning Town, Newham on behalf of the English Cities Fund, is no exception.
The English Cities Fund is our joint venture with Legal & General and Homes England, which is working in partnership with Newham Council to create Manor Road Quarter.
This new neighbourhood will bring 804 much needed new homes to the area but also see the creation of a 2.5 acre linear park. This green space will help promote biodiversity, healthy living and more besides, all while supporting clean air and encouraging the use of outdoor living and socialising.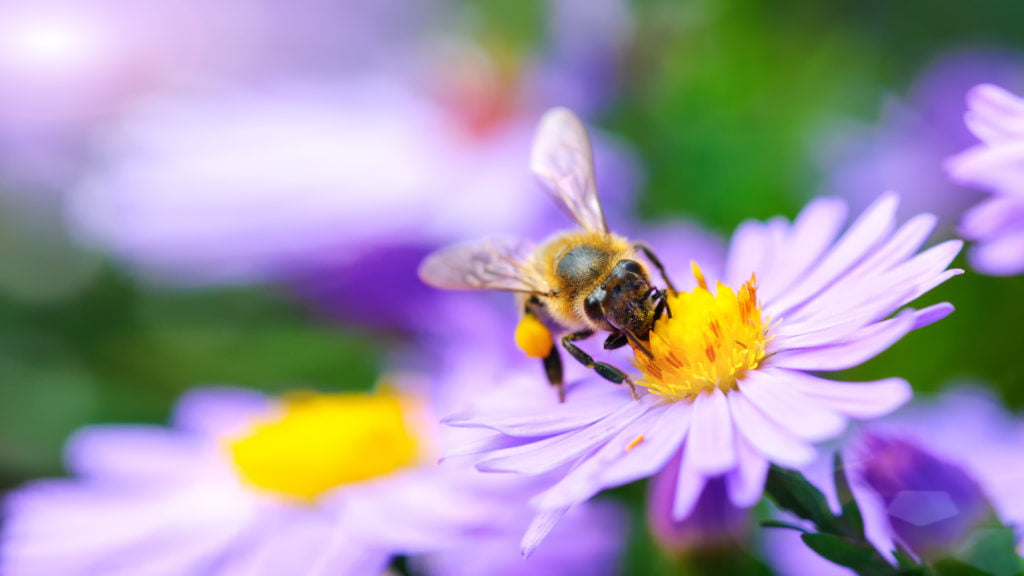 Trees, bees and leaves
The concept behind the park planting is to create a robust and naturalistic environment which is biodiverse and seasonally varied, with a target of achieving a biodiversity net gain of at least 10%. This strategy will increase the quantity of green cover in the London Borough of Newham while providing an enjoyable backdrop for the community's outdoor activities.
A multi-layered approach will result in a broad variety of plants used across the site. In a snapshot, robust, predominantly native and hardy plants will make up the park perimeters, in which lawns, meadows and ornamental plants will form a series of garden rooms. More ornamental types of plants will be incorporated into high use areas and podium gardens.
Over 60 trees ranging in size from around 10 metres to over 20 will be planted, with species varying depending on where they are to be found. For example, the park's 'woodland edge' will include a layered mix of small native trees, shrubs and groundcover to encourage local wildlife.
The park's landscape will be dotted with hazel coppice and small orchard trees while large canopy trees, such as Scots Pines and London Planes, will act as way markers and focal points. New street trees, fruit trees and woodland edge species will create a rich and diverse environment while evergreen and deciduous trees will be combined with hedges and gardens to improve the air quality and microclimate around the buildings.
No area will be overlooked for its potential to support plants, insects and animals. Hedge planting will define spaces and routes while simultaneously containing edible and productive plants that are ideal for small birds to create habitats within – and provide residents with seasonal foraging opportunities. Where possible, grassy areas will incorporate a diverse mix of wildflowers and bulbs.
Specific areas will be focused on flowering species and ornamental plantings along pathways and internal areas will consist of grass mix lining paths and play spaces as well as shrubs and herbaceous mixes. This design will bring colour and scent to social areas and provide substantial wildlife value, particularly for pollinating insects.
And it's not just the ground level that will be environmentally rich. Green roofs will be created on higher level rooftops, which will support a diverse mix of plants to benefit local wildlife and with sustainable drainage and urban cooling designed into the gardens. These roofs will include innovative rainwater attenuation and features to encourage bird foraging, nesting and insect life such as Burrowing bees and wasps. The nesting boxes will help a variety of birds and will even include special Peregrine nesting boxes.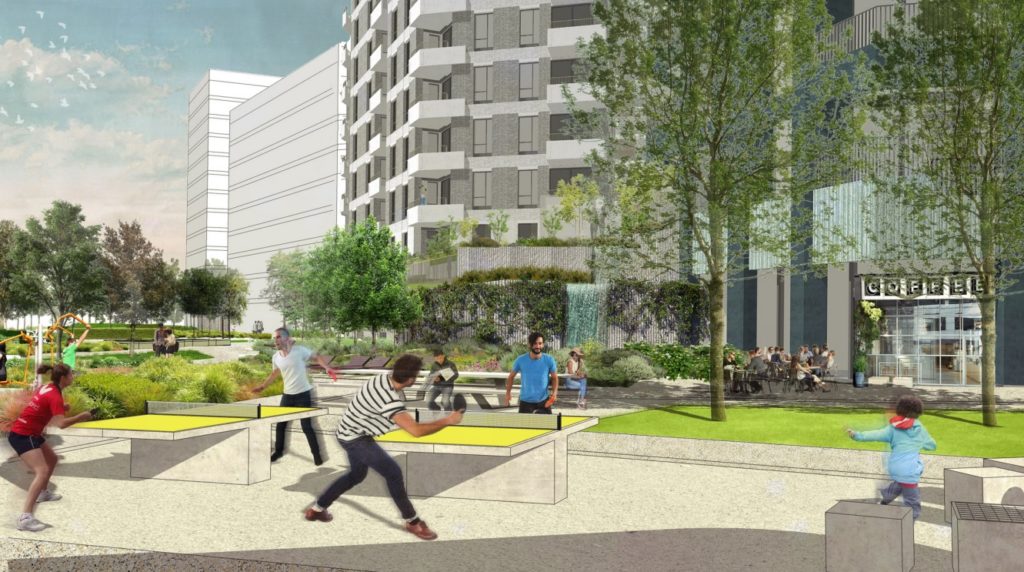 Smarter water
Water is obviously incredibly important when it comes to supporting nature, and a key part of Manor Road Quarter's green space has been designed to improve how water is retained and moved in an urban environment.
A rainwater harvesting and water attenuation system will be built into upper parts of the grounds which will use smart technology to track weather events and manage onsite water levels for plant irrigation. Typically, all the water would be allowed to drain directly into the sewers, which often means that plants don't get the moisture they need. In contrast, this system uses data to make sure that water isn't unnecessarily wasted and by building the irrigation in a layer below the planting it will also avoid the need for mechanical pumps, reducing the system's embodied carbon.
Healthy streets and healthy cities
As well as investing in the planet, this work will be an investment in the future of the local community. Manor Road Quarter will turn the area from an arterial road into a 'healthy street', an approach which uses a human centred framework to embed health into the public realm. This will see the area promote active travel over cars, reduce air pollution, slow nearby traffic and make the outdoor space more enjoyable.
Numerous measures will also be added to help the community live active lifestyles. This includes creating walking and cycling routes around Canning Town, making pleasant spaces for residents to socialise and a wide range of exercise related design features, such as children's play areas and play trails, a climbing wall, playable loops for scooters and wheeled play, table tennis areas, running tracks, fitness trails, and a parkour zone.
To make residents thumbs as green as their surroundings, four large, raised and easy to access planters will be built to encourage community gardening. Every home will also have a balcony where residents can enjoy their own personal outdoor area and where they will be encouraged to grow plants and nurture their own personal green space.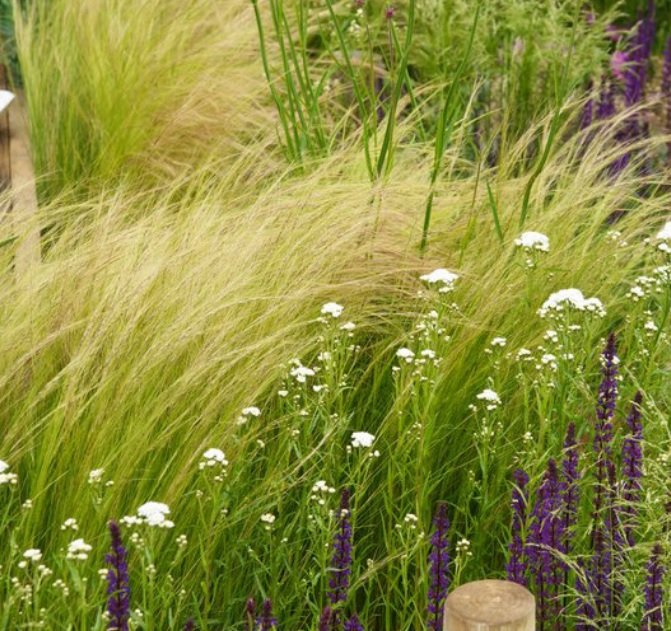 Greener and cleaner
We're working closely with landscape architects Churchman Thornhill Finch on the park to ensure that once complete it will achieve its key objectives and connect Newham's areas with a network of new green routes. This will create an enhanced urban experience for Canning Town, in which high quality homes, workspaces and outdoor areas are holistically knitted together.
Thanks to this work, Manor Road's future residents will enjoy a plethora of nature from the moment they step outside, all of which has been designed to help build the community, support wildlife and make Newham a healthier place to live. This approach is a great example of 'investing in our planet', as it takes a multigenerational view of how we regenerate inner city areas to ensure that they support people and the planet for the long term.
stories
Mentoring excellence: How Muse is shaping careers for female work experience students
stories
Grainger acquire second phase of Hale Wharf regeneration
stories
Community conversation for Earlestown regeneration
stories
PODCAST: Right place, right time
stories
Muse expands with new appointments in the Midlands
stories
Lewisham Gateway Part I: Reprioritising people and place
stories
Lewisham Gateway Part II: Unlocking an urban riverfront
stories
Slough – 10 Years of Regeneration
stories
One year as an apprentice at Muse
stories
Nurturing the next generation takes inspiration and opportunity