Bringing the best out of our heritage buildings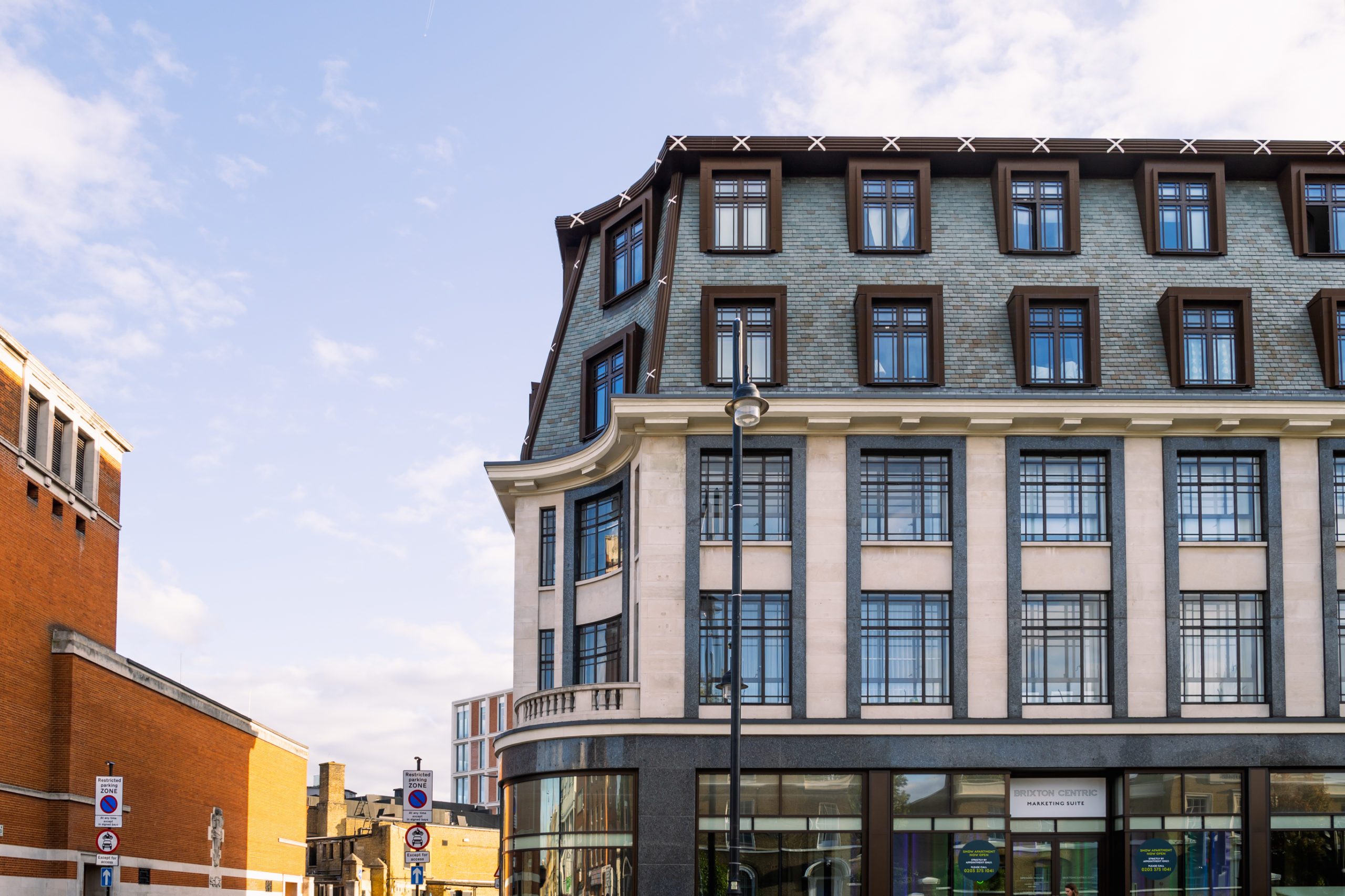 Heritage is one of the defining features of the world's most celebrated cities.
The signature buildings from centuries gone by in London, Paris, Rome and New York are architectural treasures that have drawn countless visitors since they first adorned the skyline. Yet anyone lucky enough to live in a country where older, characterful public buildings are protected knows that you don't have to look far to find something special.
In the case of London, Lambeth alone has some 2,000 Listed buildings that represent the best of the borough's historical or architectural characteristics. They include houses, churches, bridges, music venues and The Old Vic Theatre.
As a business focused on urban regeneration, our team is lucky to enough to work on large scale projects that feature characterful buildings at their core. Lambeth is a case in point and where we immersed ourselves in revitalising the Grade-II listed town hall and Ivor House to stand alongside a newly built Civic Centre and the Electric Brixton music venue.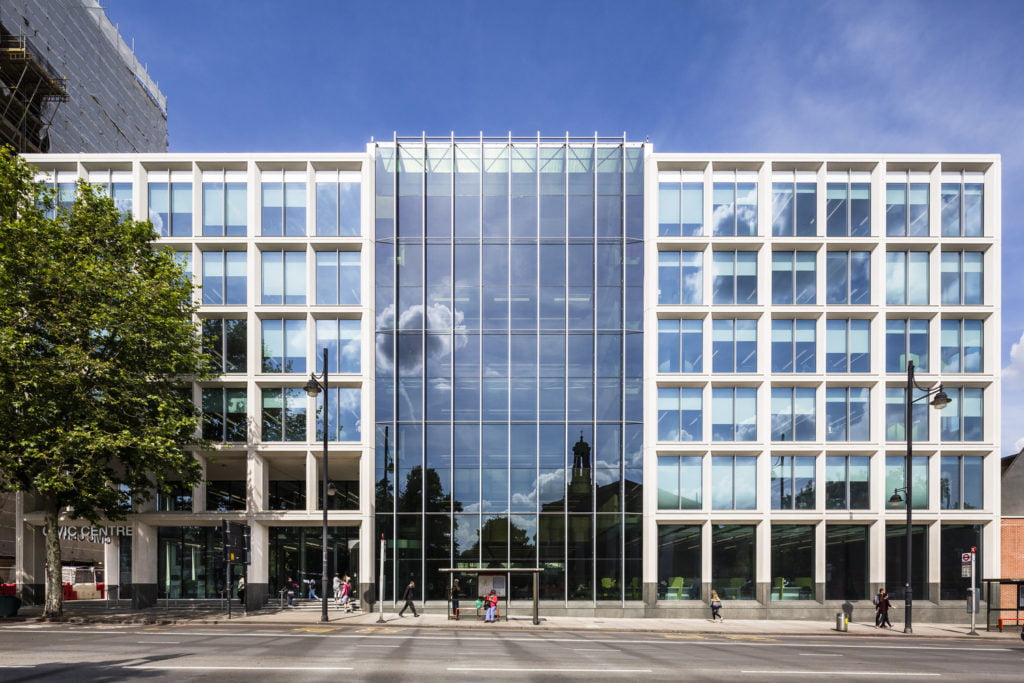 Lambeth Civic Centre
Lambeth Town Hall was originally designed by Septimus Warwick, an architect who was to make his name working on civic buildings in London and Canada. Warwick won the right to deliver the Lambeth project after an open design competition and had a reputation for refined detailing and a sense of theatricality.
Built between 1906 and 1908 in Brixton, the civic heart of the borough,  the town hall has an exterior constructed mainly of Portland stone, red brick and granite. The focal point is a 134ft clock tower that features an illuminated face with six-foot dials. The tower chimes every quarter of an hour, thanks to a two-ton, five-foot diameter bell which is struck by a hefty 75-pound hammer. The foundation stone was laid by Septimus Warwick and the Mayor of Lambeth. Underneath it, they placed and sealed a bottle containing a copy of The Times, a list of the Council members and their committees.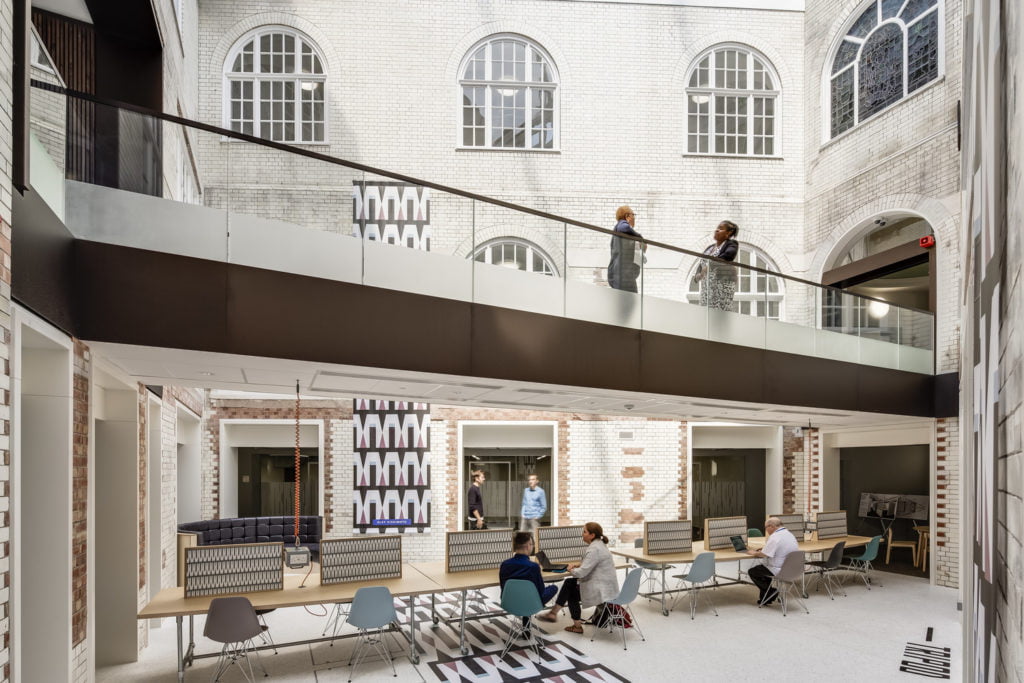 Lambeth Town Hall
With our partners Lambeth Council, we took on the challenge of revitalising the town hall and building a new community hub fit for a popular London borough. In doing so, we preserved and enhanced town hall's original features while creating a much wider range of facilities for the community. The new workplaces include refurbished historic rooms, open-plan offices and a new enterprise centre for local businesses. We also refurbished assembly halls for conferences and large meetings.
Each step of the process was achieved this through careful remodeling and reinstatement, with a design focused on creating an inviting, flexible, and sustainable building to run.
A welcoming first impression was created by using a transparent roof and with a reinstated glazed brick atrium. A central lightwell, which had been filled in with a first-floor office, was opened back up to create a meeting space below that was no longer dark and gloomy.
A bridge across this space linked to a remodeled flexible reception connecting to a new public courtyard. Architectural correspondent at Building magazine, Ike Ijeh, noted:
Inside, a labyrinthine warren of Edwardian accommodation has been rationalised – and a soaring new atrium and bridge provide a powerful metaphor for the link between new and old."
In terms of the sustainability challenge, we used mechanical ventilation and cooling to improve indoor air quality and acoustic performance. Awarded BREEAM Excellent, it is an example of a highly sustainable historic building, and one which is key in delivering savings in running costs of £4.5 million a year for the London Borough of Lambeth.
The recognition did not stop there. The project won a prestigious RIBA London Award – the judges noted that "the refurbishment of the Town Hall reinvents and breathes new life into the Edwardian building."
The wider development included the transformation of the stunning 1930's Ivor House. The locally listed, former Co-operative department store was used by Lambeth Council as offices for many years, and now, with the addition of an extra floor, provides 26 characterful new homes right in the centre of Brixton.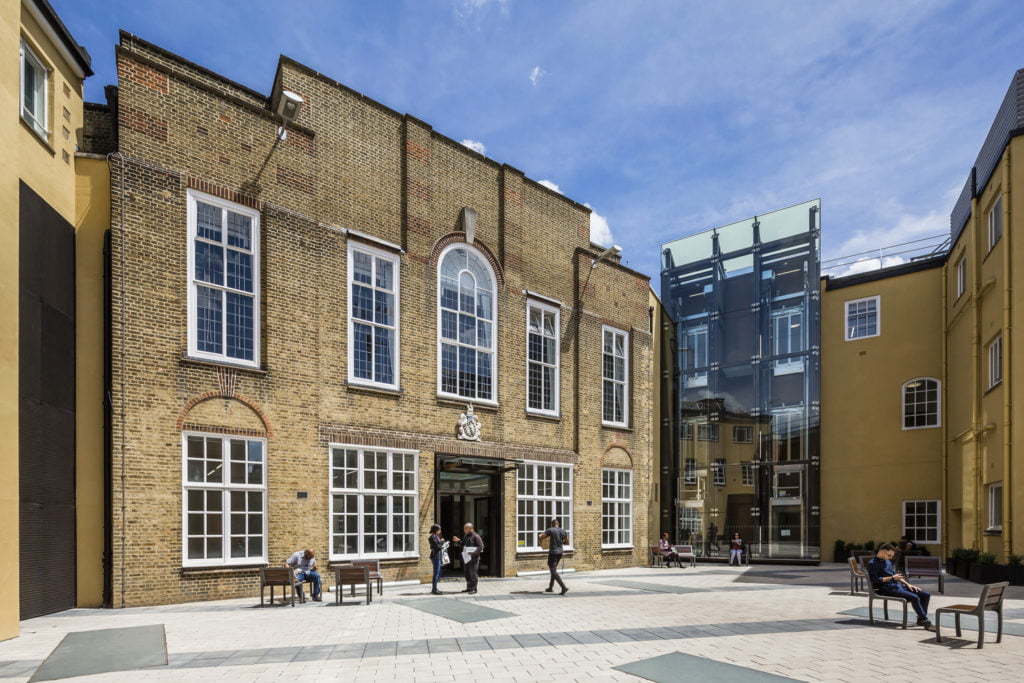 Lambeth Town Hall
It was sensitively restored and repurposed as a collection of luxurious one and two-bedroom apartments with ground floor and basement commercial space, restoring and enhancing its many original features.
Great care was taken to ensure that art-deco heritage features within the building were not lost or obscured in the transformation, with the final development preserving and enhancing the original terrazzo and mesh lift shaft. Specialists were brought in to match and create new tiles to replace damaged originals lining the luxurious main entrance and stairway.
In a country with as much history as ours, taking these heritage buildings on the journey with us into a brighter and more sustainable future will make a hugely positive difference to towns and cities across the country. They come with challenges, and do not always represent the easiest path to take, but we feel the results achieved at Lambeth demonstrate that it's well worth the effort.
stories
Mentoring excellence: How Muse is shaping careers for female work experience students
stories
Grainger acquire second phase of Hale Wharf regeneration
stories
Community conversation for Earlestown regeneration
stories
PODCAST: Right place, right time
stories
Muse expands with new appointments in the Midlands
stories
Lewisham Gateway Part I: Reprioritising people and place
stories
Lewisham Gateway Part II: Unlocking an urban riverfront
stories
Slough – 10 Years of Regeneration
stories
One year as an apprentice at Muse
stories
Nurturing the next generation takes inspiration and opportunity