Built by Nature awards €200,000 grant toward development of a commercial timber guidebook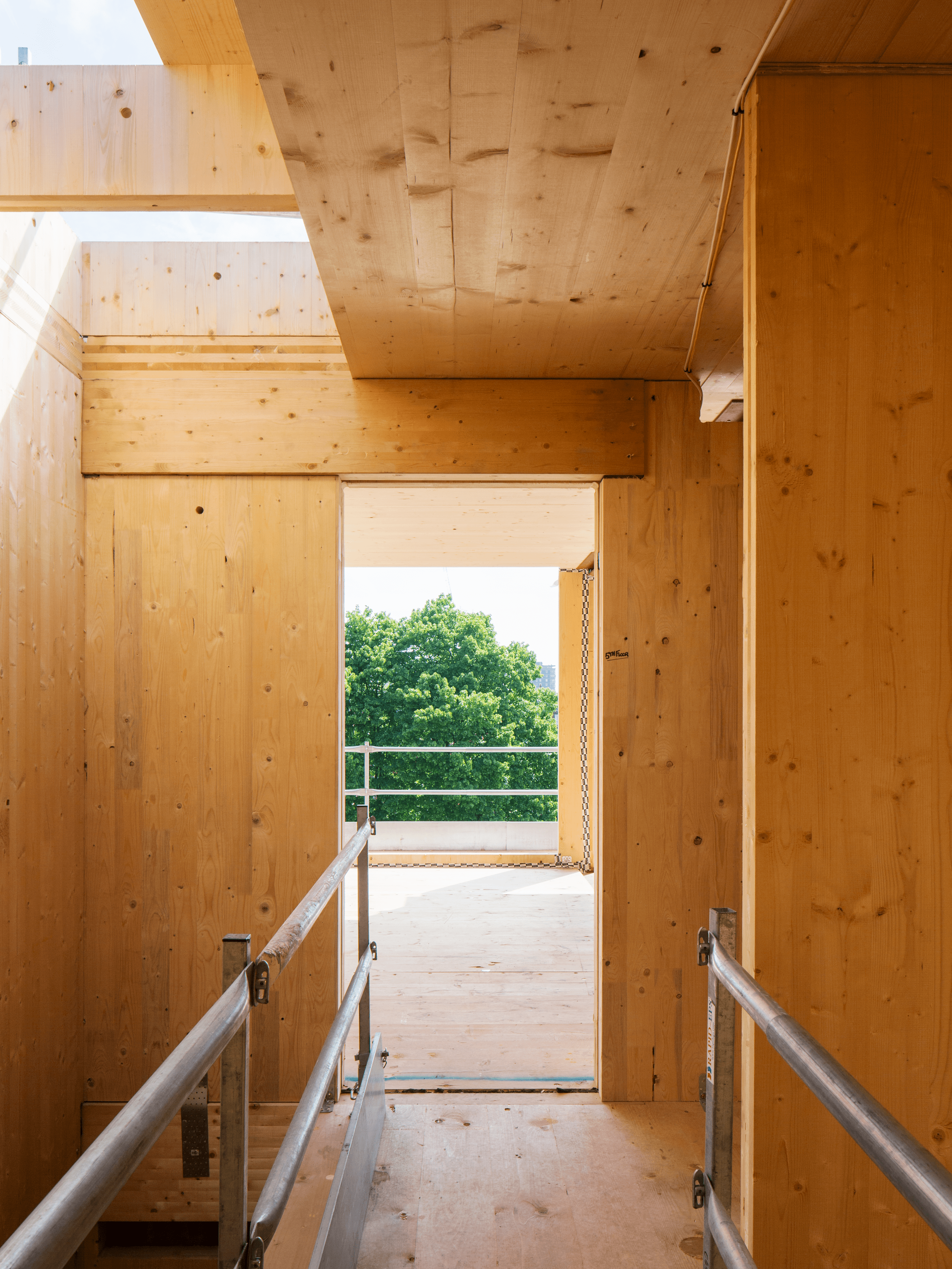 To foster cross-sector industry alignment on solutions to look at the widespread adoption of large-scale mass timber offices, the Built by Nature Fund has awarded a €200,000 grant to a diverse UK consortium, to focus on unlocking the barriers to structural timber construction, through the development of a technical commercial timber guidebook.
We've joined with Elliott Wood, Waugh Thislton Architects, fire engineers OFR Consultants and insurance specialists Lignum Risk Partners, alongside a range of organisations across the industry, including Stanhope PLC, Related Argent, Lendlease, British Land, Derwent London, Landsec, Berkeley Estate Asset Management (BEAM) and Hines.
Together, we're looking to show that a wide-ranging coalition of the biggest industry stakeholders in the UK can reach consensus on how to mitigate risks of large and complex timber developments, while demonstrating the industry's technical competency to insurers and developers.
We'll establish a common ground and a realistic route for the wider adoption of structural timber in commercial buildings through consensus on defined design principles, mass timber building typologies and technical design measures. With agreed guidelines and clear framework in place as to how risk can be quantified and mitigated, the guidebook can address the challenges and costs around insuring timber structures, the single largest barrier to mass timber construction in the UK.
The project will also complement existing projects targeting insurance barriers through direct engagement and leverage recognised industry networks such as the UK Green Building Council, Better Buildings Partnership and the Institution of Structural Engineers.
Project director, Stuart Rogers, said:
As a business, we're committed to reducing embodied carbon throughout the construction industry, and the use of timber will play an important part in building a brighter future. "
Transparency is key here. Openly sharing our research and development in to the use of timber as a viable structural alternative, and engaging with other leading UK developers to overcome the industry challenges, is encouraging for the future of a sustainable sector and we're delighted to play our part."
Built by Nature CEO, Amanda Sturgeon, said, "This is an exciting, important project given the scope of its cross-sector collaboration and the involvement of major UK developers. The Guidebook can be a milestone on the roadmap to wider acceptance of timber by creating a clear, peer-reviewed framework for overcoming the insurance barriers. And by securing the endorsements from major developers, asset owners and designers in the UK, we can create better policy conditions for mass timber offices and bring the market significantly closer to large-scale insurability."
stories
Mentoring excellence: How Muse is shaping careers for female work experience students
stories
Grainger acquire second phase of Hale Wharf regeneration
stories
Community conversation for Earlestown regeneration
stories
PODCAST: Right place, right time
stories
Muse expands with new appointments in the Midlands
stories
Lewisham Gateway Part I: Reprioritising people and place
stories
Lewisham Gateway Part II: Unlocking an urban riverfront
stories
Slough – 10 Years of Regeneration
stories
One year as an apprentice at Muse
stories
Nurturing the next generation takes inspiration and opportunity