Connecting communities to nature at Hale Wharf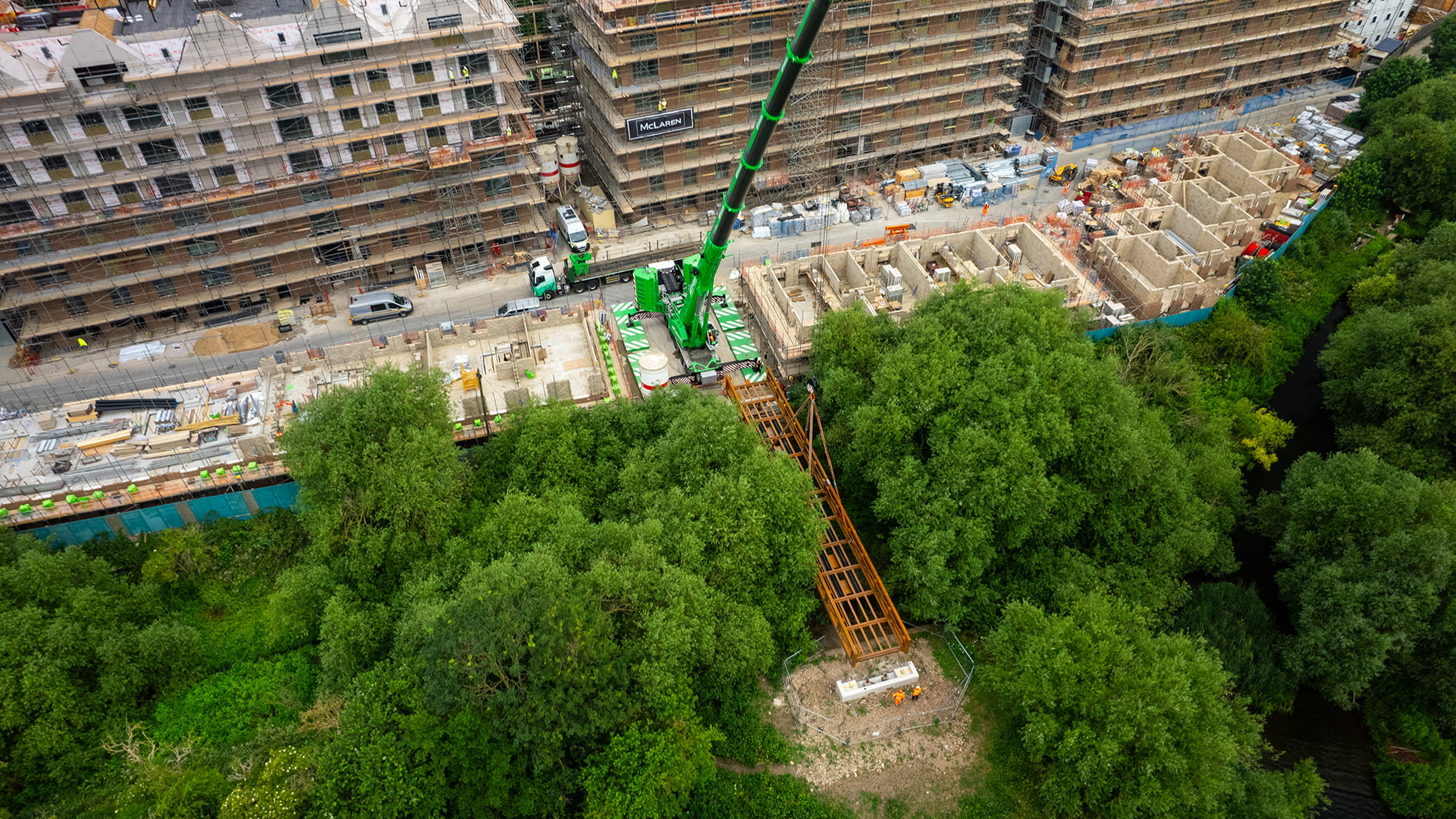 Waterside Places – our joint venture with the Canal and River Trust – along with partners, McLaren Construction, Haringey Council and the Mayor of London, have lifted a new bridge into place at Hale Wharf, which will connect communities in Tottenham Hale and beyond to a stunning network of green and open spaces, known as the Paddock Community Nature Reserve.
Hale Wharf is nestled next to the 10-acre paddock, which is the borough's first new nature reserve in over a decade and is benefiting from significant partner investment to deliver community-led improvements. This includes creating new educational facilities and enabling the land around the riverbank to be incorporated, to create an additional 1.9 acres of green space.
The paddock, which neighbours Lee Valley Park, Walthamstow Wetlands and Tottenham Marshes, brings together a diverse mix of green and blue spaces, to promote community health and wellbeing.
We're currently on site providing a further 256 striking waterside homes, with 191 council rent homes, being delivered in partnership with Haringey Council, making waterside living accessible to all, in what will be seen as the 'next generation of council homes'.
The first bridge was installed as part of the first phase at Hale Wharf, which delivered 249 homes, with 108 available for rent through leading landlord, Grainger plc, and the remaining 141 – known as Navigation Point – sold on the open market.
Isabelle Asante, Senior Development Manager, said:
Connecting people and place together through our work is a cornerstone of our approach to regeneration. Ultimately, we're place-makers, building a brighter future, together, to benefit communities."
This significant piece of infrastructure will unlock access to this fantastic local asset, leaving a positive, long-lasting legacy that will stand the test of time."
John Butten, Managing Director for Major Projects at McLaren, added: "Working together with Waterside Places and the local authority, we are creating a meaningful residential development that is connecting the local community with its surrounding area. McLaren is bringing not only our residential track record to the project but also our engineering and hard infrastructure expertise in delivering the bridges that will serve as links between Tottenham Hale and the Paddock Community Nature Reserve opposite. Our work at Hale Wharf highlights McLaren's role in supporting the placemaking ambitions of local partners, however ambitious they are."
Cllr Ruth Gordon, Cabinet Member for Council House Building, Placemaking and Local Economy said: "Haringey Council is committed to creating a fairer, greener borough. The new bridge will give our residents direct access to The Paddock and further improve connections between Tottenham High Road and Lea Valley. Our multi-million pound investment in green and open spaces will make a genuine difference to the lives and wellbeing of Tottenham's residents.
"As part of our ambitious housebuilding programme, we are transforming the borough by building new council homes, and creating places where communities can come together, and businesses can thrive."
It is anticipated that the final phase at Hale Wharf will welcome new residents in Autumn 2024, and the bridge will formally open providing access to The Paddock alongside completion of the works.
stories
VINCI named as contractor for first phase of St Helens regeneration
stories
Manor Road Quarter reaches highest point
stories
CASE STUDY: Measuring the placemaking impacts of housing-led regeneration
stories
£69.2 million investment confirmed by St Helens Borough Council
stories
Celebrating Brixton's heroic history
stories
Piecing together the jigsaw of Bromley-by-Bow
stories
Forge Island at Rotherham Show
stories
Second community conversation for Prestwich Village regeneration plans
stories
Helping Manchester towards a net zero future
stories
Salford Red Devils Foundation: changing lives through sport, health and education