Eden: behind the façade – the sustainable user experience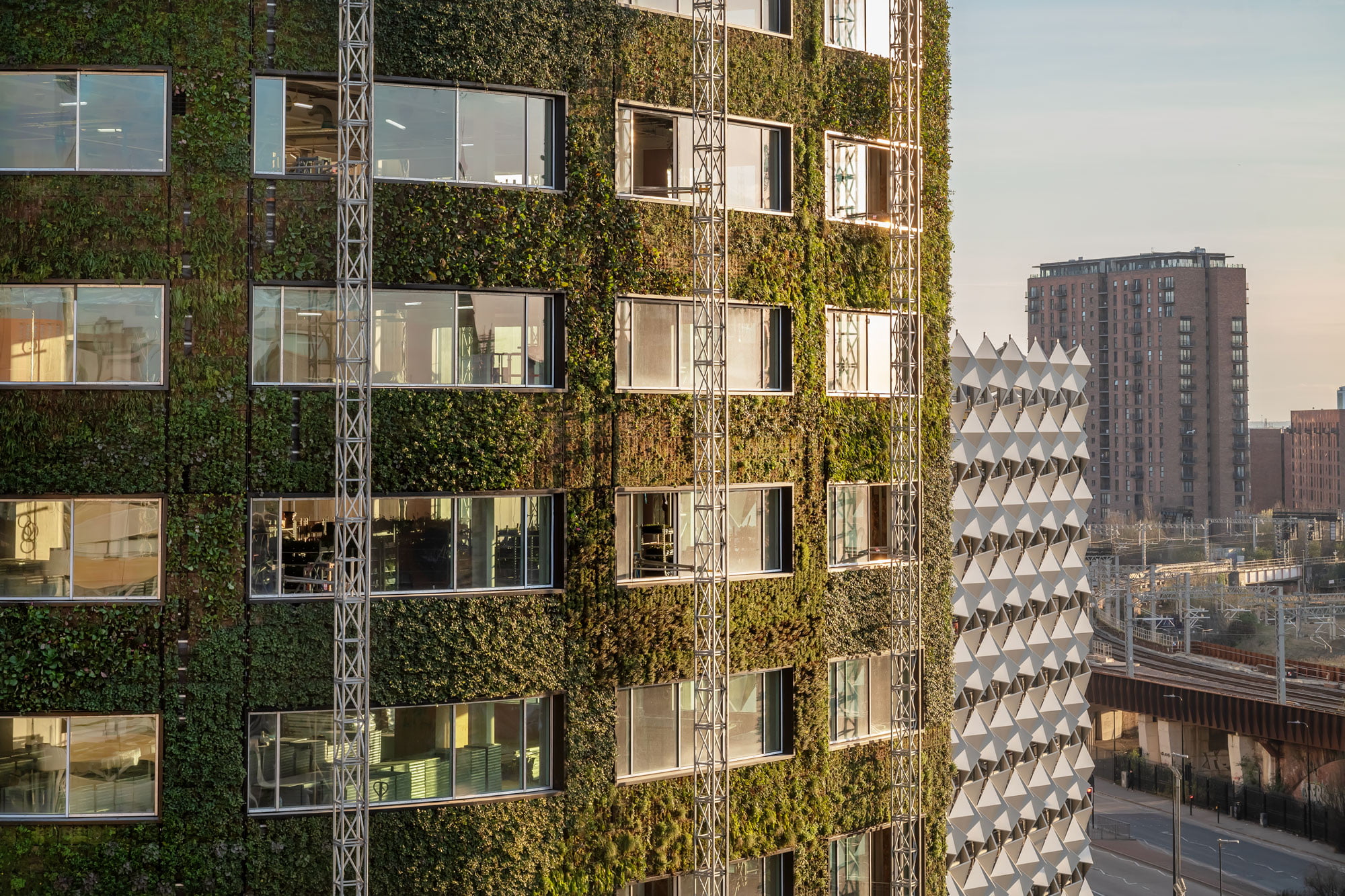 There is lots of excitement about Europe's largest living wall being planted, which wraps around English Cities Fund's (ECF) pioneering 12-storey office, Eden. Passers-by often stop to take photographs and admire this stand out piece of architecture. Although eye-catching, this façade, which will deliver a 174% net gain in local biodiversity, is only one part of Eden's sustainable credentials.
As part of ECF, Muse's joint venture with Homes England and Legal & General, we're working with Salford Council on the £1bn regeneration of Salford's historic centre, including the commercial hub, New Bailey, where Eden is located. The development of Eden has had a focus from the outset on reducing embodied and operational carbon emissions, as well as ensuring the building has features to enhance the future occupier's wellbeing.
Early-stage, whole-life, and upfront embodied carbon assessments have been undertaken and the building's embodied carbon emissions have been measured to 620kg CO2e / sqm GIA; this compares to 1,200 kg CO2e / sqm GIA for an office building built to current regulations. Sustainable and reclaimed materials have been used where possible and the building has been designed to achieve a NABERS rating of 5.5 stars.
The physical design and construction of the building is a topic of its own, so here we will focus on the sustainable materials used and operational wellbeing features of Eden that the occupiers will experience:
Sustainable materials:
Low VOC materials used throughout; VOC materials can cause unpleasant side-effects to humans and animals when gases from the material are released into the air.
A stylish on-site café featuring Recycled Glass Worktops made from 85% recycled glass and other recycled aggregates that are sourced from post-consumer construction or manufacturing processes. Manufactured using recycled glass bottles/jars/glasses destined for landfill, all the glass is locally sourced (within 15 miles) to reduce transport emissions and manufactured in the UK using no fossil fuels and 75% renewable energy.
Recycled Upholstery made from recycled plastic bottles.
Cork Panelling feature tiles in communal areas are made using more than 90% cork, which is a natural, renewable raw material, 100% biodegradable and recyclable.
A stand-out feature floor in the building's reception and in the lift lobbies of each floor which is comprised of a reclaimed sports floor from the University of Lancashire in Preston.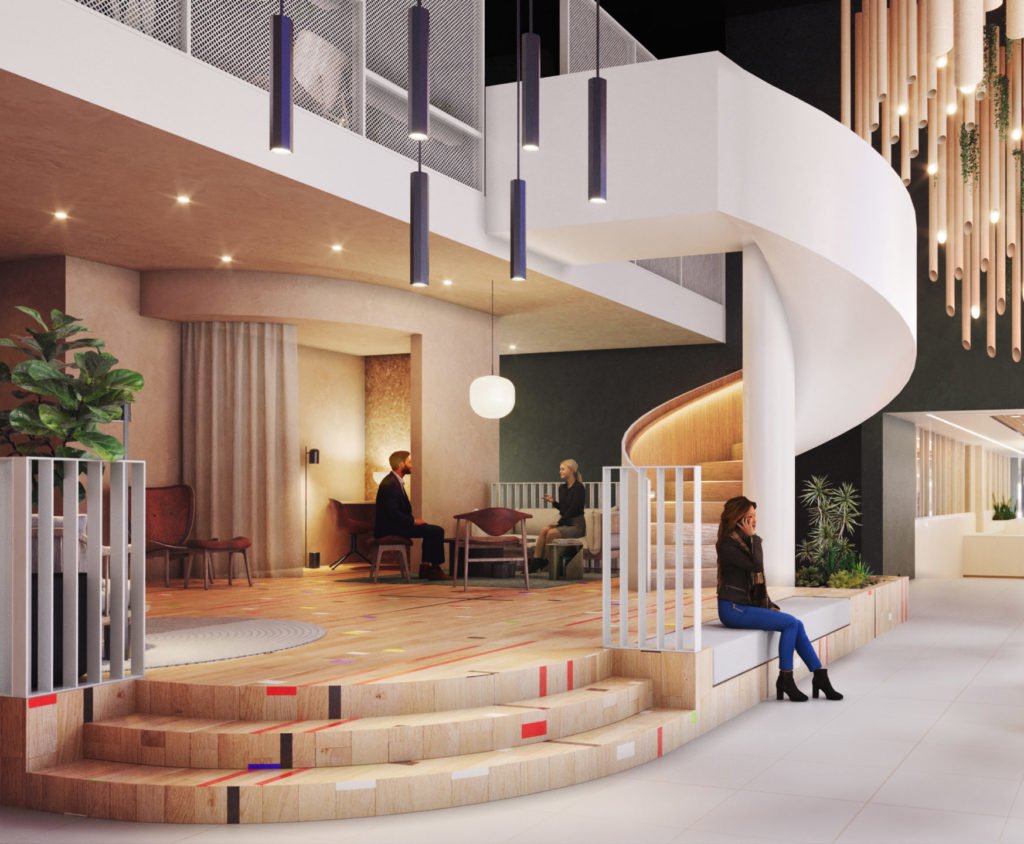 Artist impression of interior
In addition to sustainable materials, the design of Eden aims to accommodate sustainable lifestyles and wellness."
Operational wellbeing
Enhanced office floor fresh air rates of 2l/per second/per m2 (over the BCO 2022 guidance of 1.6–1.8 litre/per second/per m2).
The BMS (building management systems) infrastructure installed in Eden allows occupiers to install energy monitoring and continuous indoor environmental quality (IEQ) monitoring systems within their demise as part of their CAT-B fit-out. This includes CO2 sensors across every floor that monitor the levels of CO2 to ensure that they never reach levels where concentration levels are affected.
A ground floor (not basement!) Cycle Hub home to 156 cycle racks, lockers, showers. Two substantially sized drying rooms are also available, perfect for drying off kit on those rainy days.
A yoga studio where yoga classes will be held exclusively for Eden's occupiers.
60-person capacity roof terrace providing the perfect space to take a break from work and enjoy panoramic views.
Ample ground floor communal seating areas, where occupiers can break away from their day to day office environment and connect with other users of the building.
Designed to the WELL Building Standard V2; WELL is a vehicle for buildings and organisations to deliver more thoughtful and intentional spaces that enhance human health and well-being. As a WELL enabled building, occupiers can create workplaces that are WELL certified for their employees via their CAT-B fit-out.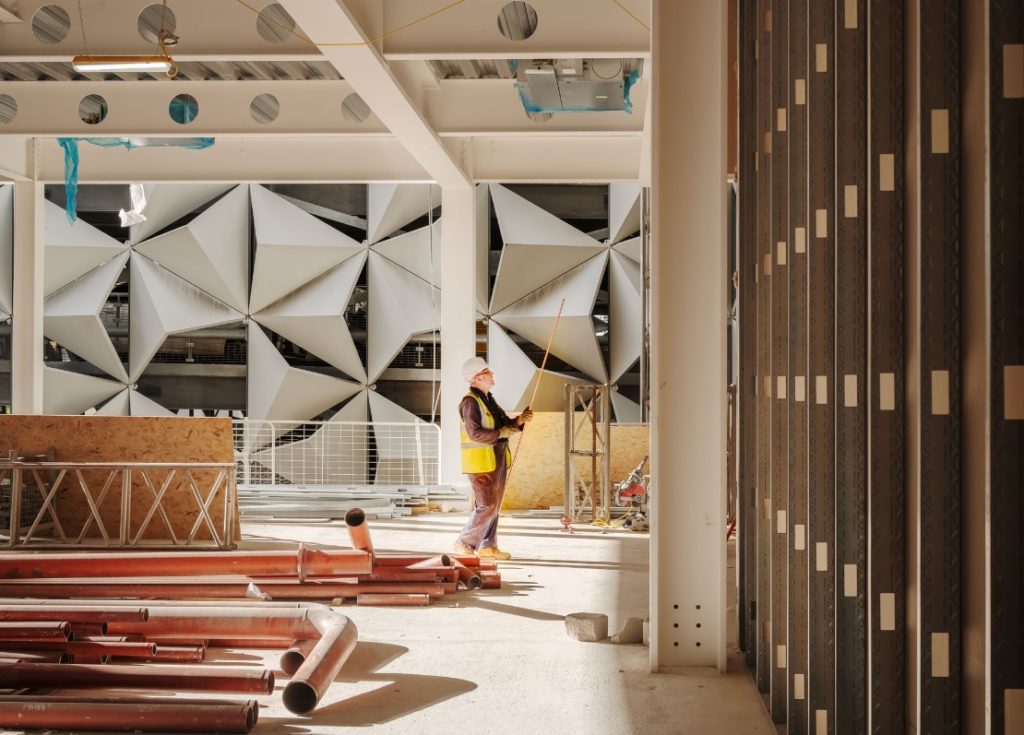 Eden under construction
With the climate crisis now widely acknowledged, most businesses have a strategy of how they can operate more sustainably and the property they occupy – as well as how they use it – is an intrinsic part of demonstrating this commitment. Eden will be capable of operating sustainably and we are delighted that those occupiers already signed up or those we are in discussions with are enthusiastic at the prospect of being part of a community that cares.
Businesses have re-established work patterns based on the new norm of hybrid working in the post-covid pandemic world. Occupiers are demanding more from workplaces, which must provide a quality user experience away from home in a space that enables effective collaboration, learning and working. Behind Eden's living wall, is a considered office development that paves the way for future construction methods and sustainable occupation with wellbeing in mind.
stories
VINCI named as contractor for first phase of St Helens regeneration
stories
Manor Road Quarter reaches highest point
stories
CASE STUDY: Measuring the placemaking impacts of housing-led regeneration
stories
£69.2 million investment confirmed by St Helens Borough Council
stories
Celebrating Brixton's heroic history
stories
Piecing together the jigsaw of Bromley-by-Bow
stories
Forge Island at Rotherham Show
stories
Second community conversation for Prestwich Village regeneration plans
stories
Helping Manchester towards a net zero future
stories
Salford Red Devils Foundation: changing lives through sport, health and education