Horsham homes move forward following planning submission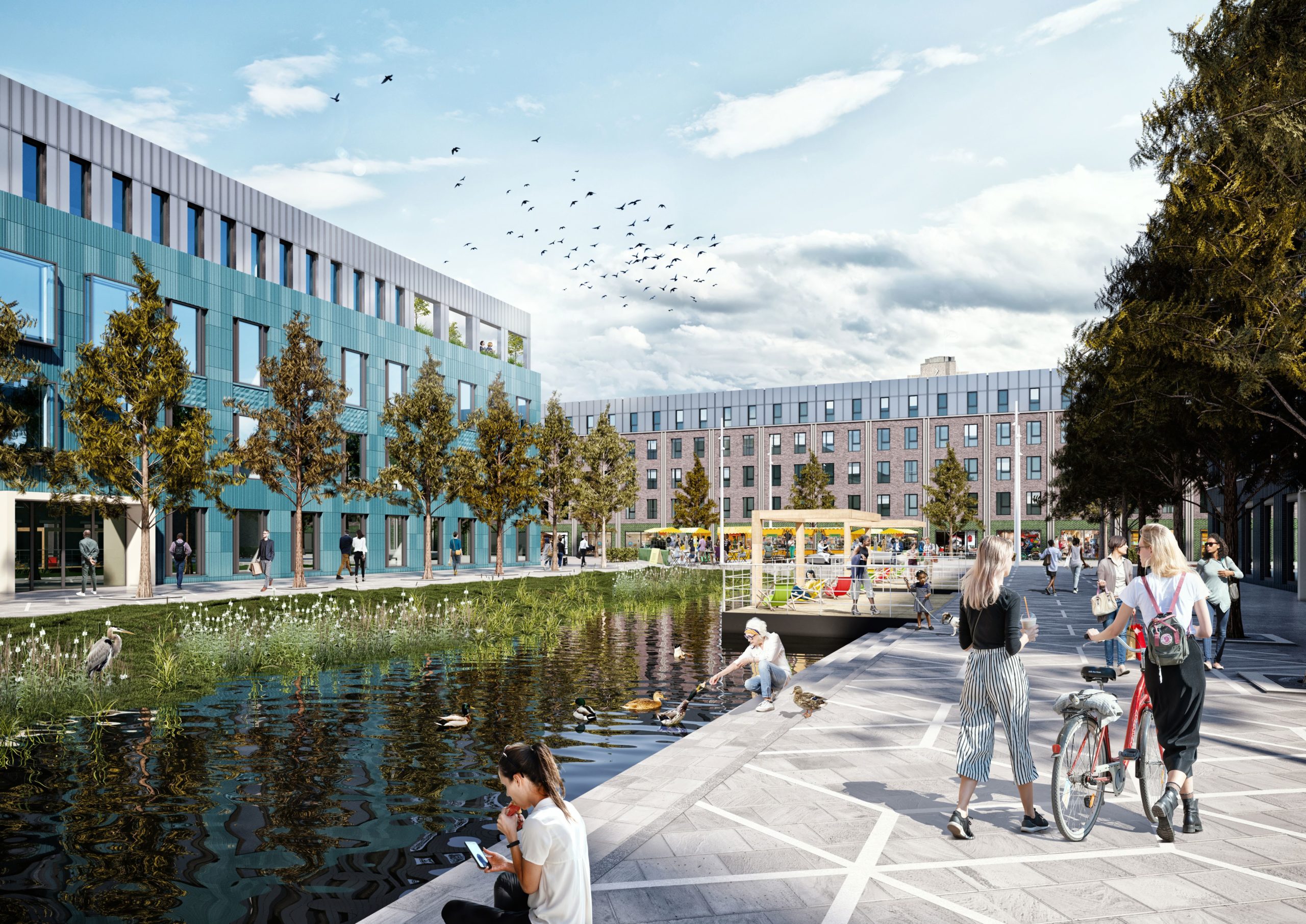 We're building momentum in Horsham, as we've submitted a reserved matters planning application to Horsham District Council to bring forward 260 mixed-tenure homes on the former enterprise park site, in partnership with West Sussex County Council.
The site will be delivered in collaboration with our sister company, Lovell Partnerships, to deliver the homes in this historic market town.
Larksfield Place as it is now known, is a 18-acre site that received outline planning consent in 2020, and brings together a vibrant, mixed-use neighbourhood in the heart of Horsham.
Homes will be set within stunning tree-lined avenues of blue cedars and stunning outdoor spaces for all to enjoy, providing the perfect place to put down roots. Of the 260 homes, 91 will be classed as affordable and will be available through shared ownership and affordable rent.
We'll also sensitively preserve and convert the 1930s art deco former HQ of Novartis into a collection of unique apartments, complete with space on the ground floor for independent traders and community groups.
Alongside the housing, which is the first part of the development, we'll focus on delivering employment space for the town.
We're committed to creating a connected and inclusive environment that minimises car use, through the formation of a network of safe pedestrian and cycling routes to connect the development with the surrounding areas of Horsham.
Robert Allan, development director, said:
Submitting planning is the next step in our mission to create a thriving, sustainable place that benefits the Horsham community, connecting people and place seamlessly."
Together with our partners at West Sussex County Council and Lovell, we'll work hard to transform the former enterprise park, providing a choice of homes, public spaces and amenities that are accessible to all."
Leanne Smith, director of Lovell Southern, said: "We are delighted to be part of this collaborative partnership with Muse and West Sussex County Council, this is an exciting site and project, and further demonstration of Lovell's long-term commitment to the West Sussex area."
Should the application receive consent, it's anticipated that we'll start on site in early 2024.
stories
Mentoring excellence: How Muse is shaping careers for female work experience students
stories
Grainger acquire second phase of Hale Wharf regeneration
stories
Community conversation for Earlestown regeneration
stories
PODCAST: Right place, right time
stories
Muse expands with new appointments in the Midlands
stories
Lewisham Gateway Part I: Reprioritising people and place
stories
Lewisham Gateway Part II: Unlocking an urban riverfront
stories
Slough – 10 Years of Regeneration
stories
One year as an apprentice at Muse
stories
Nurturing the next generation takes inspiration and opportunity