Latest St Helens town centre transformation plans revealed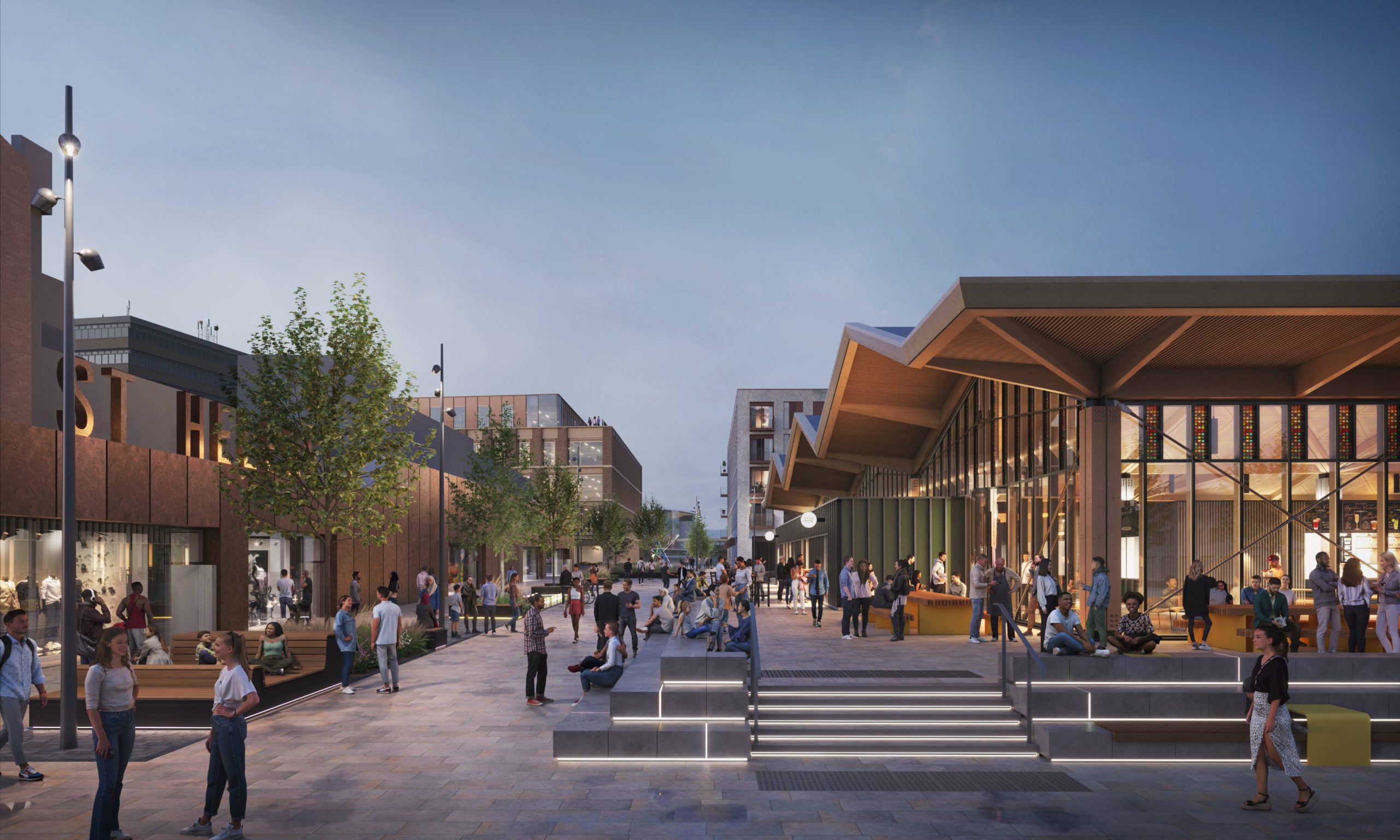 Art and design ideas that reflect the proud heritage, buildings and features to be enjoyed by children and families, and high ambitions for the future are at the heart of plans to revitalise St Helens town centre.
Our joint venture, The English Cities Fund, is working with St Helens Borough Council to transform the town centre, with a genuine sense of place and pride restored.
Jon Matthews Architects has created the masterplan and detailed design of the three central areas in proposals for the first phase of regeneration, which members of the public can view as part of a new community consultation starting this week.
They are based around a stunning new market hall that will feature approximately 23 stalls, food and beverage outlets, a bar and performance area, along with a range of other amenities to encourage and cater for visitors through the daytime and evenings. Outside the market hall will be space for play and child-focused street furniture.
The market hall will be flanked by a mixed-use area set around a 150-bedroom hotel, 64 homes and 10,915 sq ft modern retail space, along with a new 49,670 sq ft sustainable office building.
The design of each of the new buildings has drawn inspiration from St Helens' past, with architectural glass, for instance, a key feature within the market mall. Art installations that celebrate the town's history, ingenuity, and individuality will also feature in recessed sections of the ground floor exterior wall of the hotel.
The designs for the facades of the new buildings also reference St Helens architectural traditions. Sam Ainsley, a project architect at Jon Matthews Architects, said: "There is a strong emphasis on radiating local character. For each of the buildings, we've looked at detail from existing buildings and distilled it."
Councillor David Baines, leader of St Helens Borough Council, said: "Our town centres in St Helens and Earlestown are key to our borough and of huge importance to local people. Their rejuvenation is critical to our borough's future, and I am delighted to see our once in a lifetime plans for St Helens reach the next stage of the process.
"The plans are significant and we want to hear from as many residents and businesses as possible to help us shape the proposals.
"We are totally focussed on providing the right conditions that will revitalise the town centre. With our focus on heritage, children and families, and our high ambitions for the future, we want to support the hundreds of local independent businesses already operating there and the growth of new ones, provide the right infrastructure, and deliver quality spaces and places that local people of all ages can enjoy."
Stuart Rogers, project director at ECF, said:
We're looking forward to showcasing the thinking and detail that has gone into preparing for the next stage of this unique project. Everyone involved is committed to engaging with the community and setting the town on a path that will create a positive legacy to benefit people for generations to come."
He added that while the challenges facing St Helens may not be unique – towns centres everywhere have suffered because of changing shopping habits – St Helens does have many strengths to build upon and some unique issues to address.
"There are excellent transport links, and the right sense of arrival and mix of experiential amenities that people need will attract people back into the centre. Local people have also told us that the existing large scale and monolithic indoor shopping precincts have become a barrier to getting around the town. Our exciting proposals will restore the historical street pattern in places and help local residents, businesses and visitors alike with wayfinding."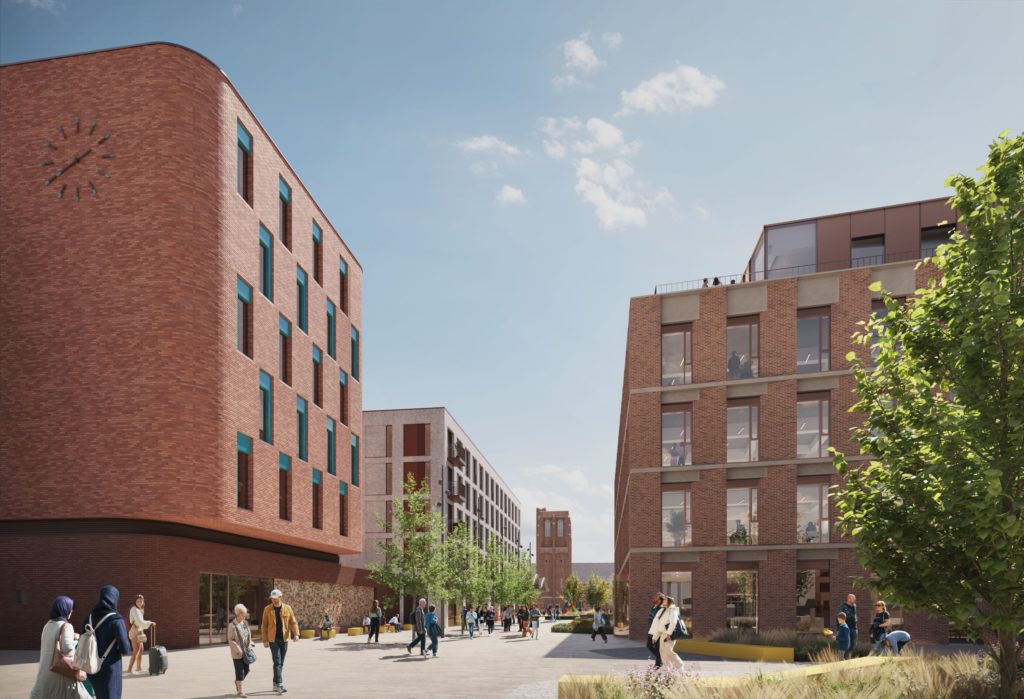 People are invited to have their say on the St Helens town centre proposals across a series of consultation events taking place this month. Members of the project team, including the architects, will be on hand to talk through the plans and answer questions from the community.
The first events have been confirmed and others will be confirmed shortly, with details posted on St Helens' council social media accounts and via the consultation website www.sthelenstowncentre.co.uk where members of the community can also view the plans and submit feedback. The consultation will close Monday 12 June 2023.
Confirmed dates so far include:
Tuesday 23rd May (11am – 4pm) – 51 Church Street, St Helens Town Centre
Wednesday 24th May (11am – 4pm) – 51 Church Street, St Helens Town Centre
Thursday 25th May (11am – 4pm) – 51 Church Street, St Helens Town Centre
Friday 26th May (11am – 4pm) – 51 Church Street, St Helens Town Centre
Saturday 27th May (10am – 3pm) – 51 Church Street, St Helens Town Centre
St Helens Borough Council is working on a 20-year regeneration plan for the area with the ECF – a national development partnership between nationwide placemaker, Muse Places, Legal and General and Homes England.
The Project Team includes: Jon Matthews Architects as Architect; Planit as Landscape Architects; Hilson Moran as Mechanical and Electrical Engineers; Heyne Tillet Steel as Civil and Structural Engineers; CBRE as Planning Consultant; Cundall as Sustainability Consultant; WSP as Highways Engineer; Design Fire Consultants as Fire Engineers; Arcadis as Project Manager; Faithful+Gould as Cost Consultant; Powers Surveyors as part of Masterplan team.
Earlestown has its own dedicated focus within the wider strategy, with an initial focus on updating the town's market square and town hall, a project boosted by the award of £20 million last year from the government's Levelling Up Fund.
stories
Mentoring excellence: How Muse is shaping careers for female work experience students
stories
Grainger acquire second phase of Hale Wharf regeneration
stories
Community conversation for Earlestown regeneration
stories
PODCAST: Right place, right time
stories
Muse expands with new appointments in the Midlands
stories
Lewisham Gateway Part I: Reprioritising people and place
stories
Lewisham Gateway Part II: Unlocking an urban riverfront
stories
Slough – 10 Years of Regeneration
stories
One year as an apprentice at Muse
stories
Nurturing the next generation takes inspiration and opportunity