Lewisham Gateway: 20-years of partnership and perseverance
Spanning more than 17 acres of Lewisham town centre, Lewisham Gateway is testament to almost two decades of successful public-private partnership working.
At Muse, we pride ourselves on our ability to draw together a wide range of stakeholders to deliver ambitious new neighbourhoods that others might deem to be too difficult to bring forward. Lewisham Gateway is testament to the power of this approach.
Our journey at Lewisham Gateway has not been short or without challenges. The project began in 2004 when we were selected by Lewisham Council as the development partner for the project. We were tasked with unlocking the site by re-wiring existing infrastructure, then delivering a connected and community-focused place, creating a wealth of homes, complete with evening and weekend amenities not seen in the town for decades, ultimately bringing people and place together.
The challenges we faced in delivering this new neighbourhood were complex and difficult to overcome. However, through partnership and perseverance, we are now approaching the completion of Lewisham Gateway.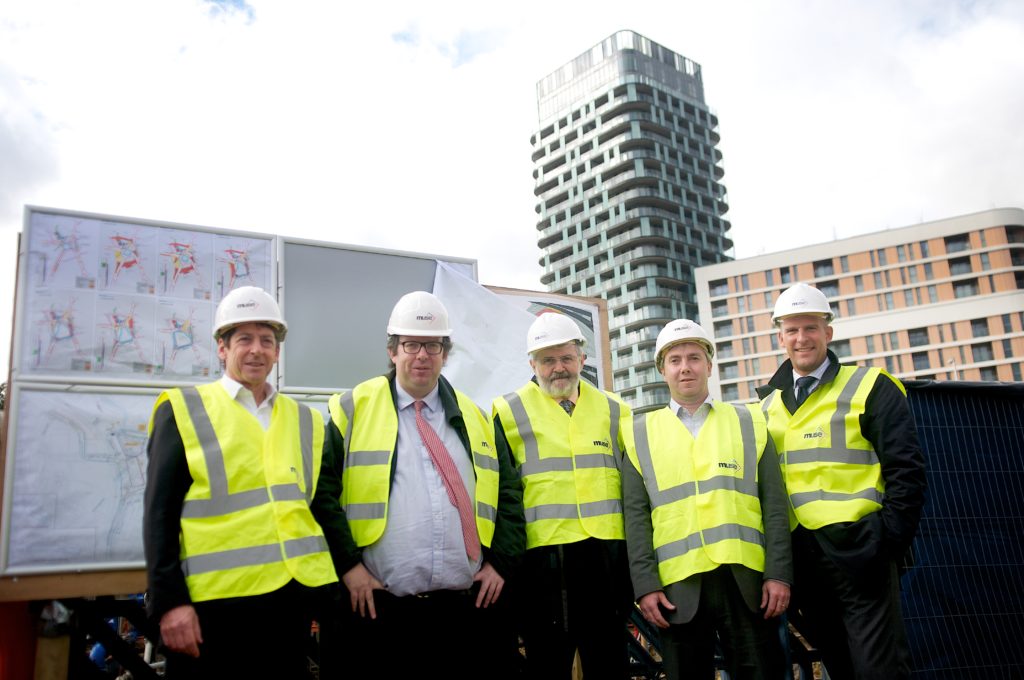 Local Mayor visit 2014
The first demonstration of powerful partnerships dates to the very start – securing the land required for the new neighbourhood. Though the land was already partially owned by Lewisham Borough Council, it took three years and a compulsory purchase order to assemble the site. This process required close collaboration and the creation of positive relationships with the existing landowners. These included the Greater London Authority, Transport for London, and The London Bus Company.
The site was essentially inside a major roundabout where car was king. Thousands of motorists used this infrastructure every day and it was incredibly hostile to both pedestrians and cyclists. A key part of the transport infrastructure of the area, it saw thousands using it every day. This also included a disjointed public transport system, which required radical thinking to relocate the existing bus station. Buried below the site lay further challenges, with two culverted rivers – the Ravensbourne and the Quaggy – flowing beneath the surface and a Thames Water main sewer.
Addressing these challenges took an immense collective effort of a coalition bounded by a shared vision. Alongside the Environment Agency and Thames Water, we re-routed both rivers and the sewer to make the new neighbourhood possible. Connected by common goals and with a shared vision for the area, we were able to lay the foundations for transformative placemaking.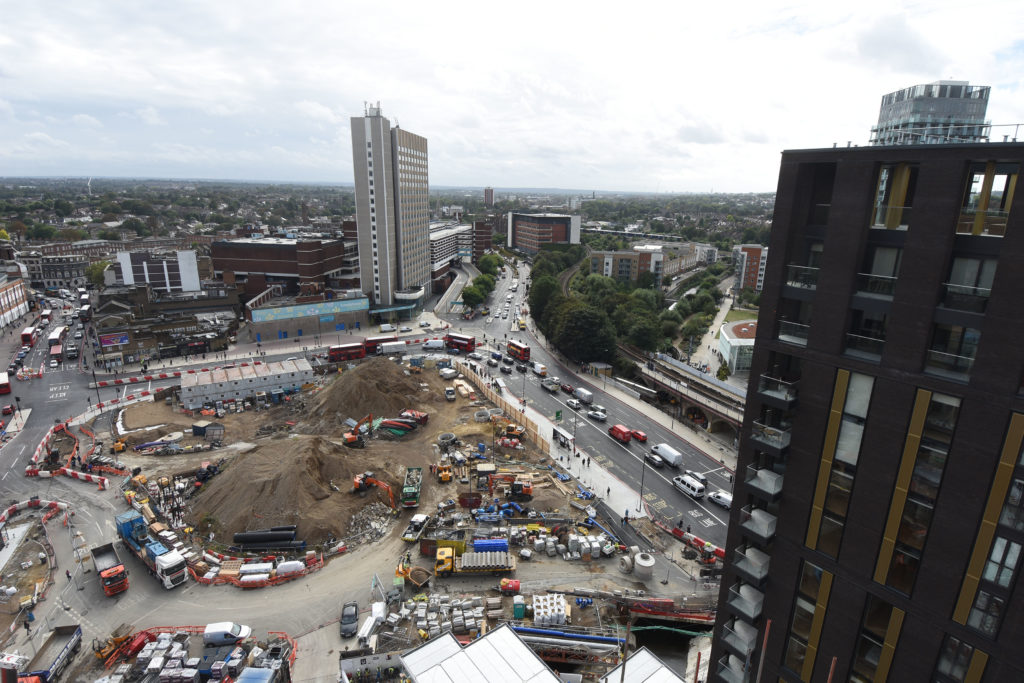 Lewisham Gateways newly developed roundabout 2016
The years following have been similarly characterised by the vital importance of considered partnership and collaboration. Investment from the Get Britain Building grant and Homes England's Housing Infrastructure Fund underpinned the progress of the whole project. Without the support from these organisations, Lewisham Gateway would simply not have been possible.
Through the 2008 global recession and the pandemic, we have been able to depend on the support of Lewisham Council and our partners who shared our vision for the new community. Even as planning permission needed to evolve as we moved through phases of the project, we have been able to trust in the strength of our partnerships.
Investment from Fizzy Living in the first phase helped to accelerate delivery and set up a platform for the second and final phase to come forward. With Fizzy Living now in ownership and operating the homes in the first phase, further investment by leading Build-to-Rent owner and operator, Get Living, has been vital to facilitating the final stage of development. Get Living is a new investor in the borough and understood that Lewisham Gateway offered a unique opportunity to become the long-term custodian of a new neighbourhood, blending mixed-tenure homes, retail and leisure amenities and workspace to suit everyone. Aligning ourselves with appropriate investors, with collective aspirations has helped to accelerate delivery.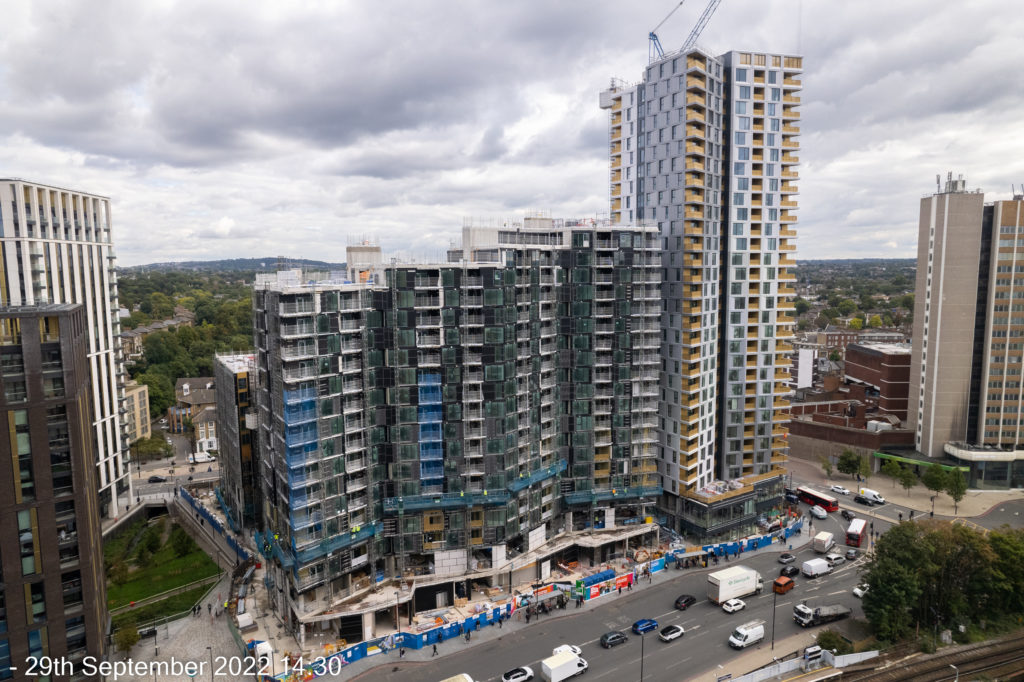 Lewisham Gateway 2022
Today, where once there stood a busy roundabout, visitors to Lewisham will soon find over 1,000 mixed-tenure homes, two public squares, shops, bars and restaurants in a new night-time quarter, a future cinema, flexible workspaces and business opportunities for the local community.
Lewisham will once again have a beating heart that brings the community together and provides what was truly needed in the town. The community will be able to enjoy two rivers in the heart of the borough, uncovered for all to see and visit from Confluence Park, that sits in the heart of Lewisham Gateway. New residents will be able to take advantage of the fantastic transport infrastructure offered at Lewisham Station, in an environment friendly to pedestrians and the retail outlets they can enjoy. We also recognised the importance of affordable living, and, despite viability challenges, we are proud to be delivering over 100 affordable homes.
Through partnership and perseverance, Lewisham Gateway has delivered on its place-changing ambitions. It provides a fresh model for how councils and placemakers can deliver transformational neighbourhoods, in partnership with the communities that will benefit most. By uniting around a shared vision and goal, public-private partnerships have the power to overcome critical challenges and realise long-term transformative change. Other places across the country can similarly be re-imagined to better serve their communities. Lewisham Gateway should be seen as a source of inspiration for the potential of this approach.
stories
Mentoring excellence: How Muse is shaping careers for female work experience students
stories
Grainger acquire second phase of Hale Wharf regeneration
stories
Community conversation for Earlestown regeneration
stories
PODCAST: Right place, right time
stories
Muse expands with new appointments in the Midlands
stories
Lewisham Gateway Part I: Reprioritising people and place
stories
Lewisham Gateway Part II: Unlocking an urban riverfront
stories
Slough – 10 Years of Regeneration
stories
One year as an apprentice at Muse
stories
Nurturing the next generation takes inspiration and opportunity