Muse named as development partner for huge Oldham transformation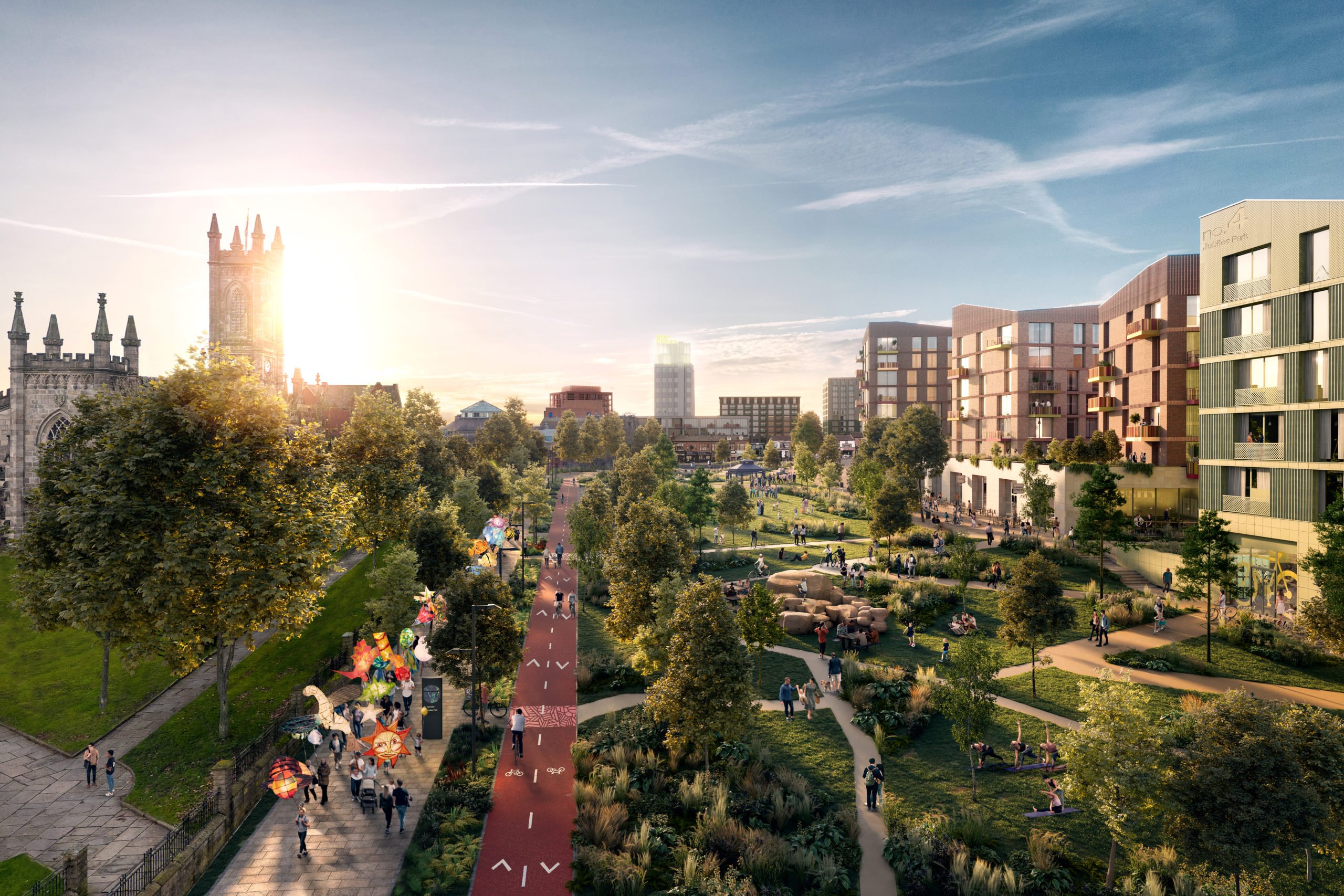 Oldham Council has named Muse as its development partner to bring forward a new neighbourhood in the town centre, complete with 2,000 new mixed-tenure homes.
Our new place partnership will bring millions of pounds of investment into Oldham, as well as creating new jobs and opportunities for communities across the town to thrive and prosper.
In being selected, we demonstrated a thorough understanding of the ambition and scale of Oldham's regeneration plans, along with our capability and track-record to deliver, thanks to a highly experienced team spearheaded by our North West Managing Director, Phil Mayall, who was also born and raised in Oldham.
Phil Mayall, Managing Director – North West, said:
We're proud to have been selected by the council to deliver its ambitious vision for regeneration in the town and we're excited to get started."
As a business, we're all about placemaking. We create kinder places in our towns and cities that focus on quality, community and sustainability. It's regeneration with people at its heart; that will celebrate the proud town of Oldham, its rich heritage, along with its aspirations for the future."
We're at the start of our journey with the council and we're very much looking forward to getting out in the community as soon as we're able, as we build a brighter future for Oldham, together."
Councillor Arooj Shah, Leader of Oldham Council, said: "Today's announcement marks a crucial milestone in our plans for thousands of new homes in Oldham town centre becoming a reality.
"As well as providing a range of new housing of all types and sizes right in the heart of the town centre, this development will also bring benefits for the wider borough in terms of investment, new jobs and training opportunities.
"The aim is to create 2,000 new homes on what are currently some of the council's own sites – including the Civic Centre – to provide the much-needed variety of new homes for our residents, and helping meet our housing demand targets set by Government. By building on so-called 'brownfield' sites, we can protect green and open space from development, as well as bringing people into the heart of our town centre.
"Over time, new communities making their homes in our town centre will bring a boost to local businesses; the increase in council tax receipts will benefit the council financially; and life will be brought back into a town centre that, like many others, has struggled in recent years.
"I'm thrilled that we are forging ahead with these exciting, ambitious, and truly game-changing plans to create a town centre for future generations to live in, work in and enjoy – and I'm also so pleased that Muse, headed up by a passionate Oldhamer, will be our partner."
Our delivery of 2,000 homes in partnership with the council, is an unrivalled opportunity in supporting Greater Manchester Combined Authority (GMCA) and Homes England to create homes for the future and unlock brownfield land for regeneration.
The same commitments are central to Greater Manchester's trailblazing new devolution deal and demonstrate how Oldham's regeneration will provide homes and opportunities for Oldhamers, as well as contributing to the city-region's ambitions.
As well as the new homes, the ambitious Creating a Better Place plan will transform Oldham in many more ways – it will unlock investment worth £285 million and over 1,000 new jobs and 100 apprenticeship opportunities.
There will be a new public park in the heart of the town centre and an entirely redeveloped Spindles – changing it from being solely retail-focused to a place for all the community to use. This includes new shops, stunning spaces to work, as well as an improved, family-friendly leisure and entertainment offer.
A new theatre will be at the heart of a cultural quarter that preserves the town's heritage and, among other exciting developments, the Old Town Hall's Egyptian Room will be transformed into a modern food hall, featuring six casual dining-style food stalls, a bar and a central seating area.
Creating new homes on such a large scale will bring about a huge range of benefits for the whole borough, such as meeting Oldham's housing need; increasing footfall in the town centre and boosting local businesses and breathing life back into derelict and under-utilised sites.
stories
VINCI named as contractor for first phase of St Helens regeneration
stories
Manor Road Quarter reaches highest point
stories
CASE STUDY: Measuring the placemaking impacts of housing-led regeneration
stories
£69.2 million investment confirmed by St Helens Borough Council
stories
Celebrating Brixton's heroic history
stories
Piecing together the jigsaw of Bromley-by-Bow
stories
Forge Island at Rotherham Show
stories
Second community conversation for Prestwich Village regeneration plans
stories
Helping Manchester towards a net zero future
stories
Salford Red Devils Foundation: changing lives through sport, health and education