New neighbourhood at Stroudley Walk ready to go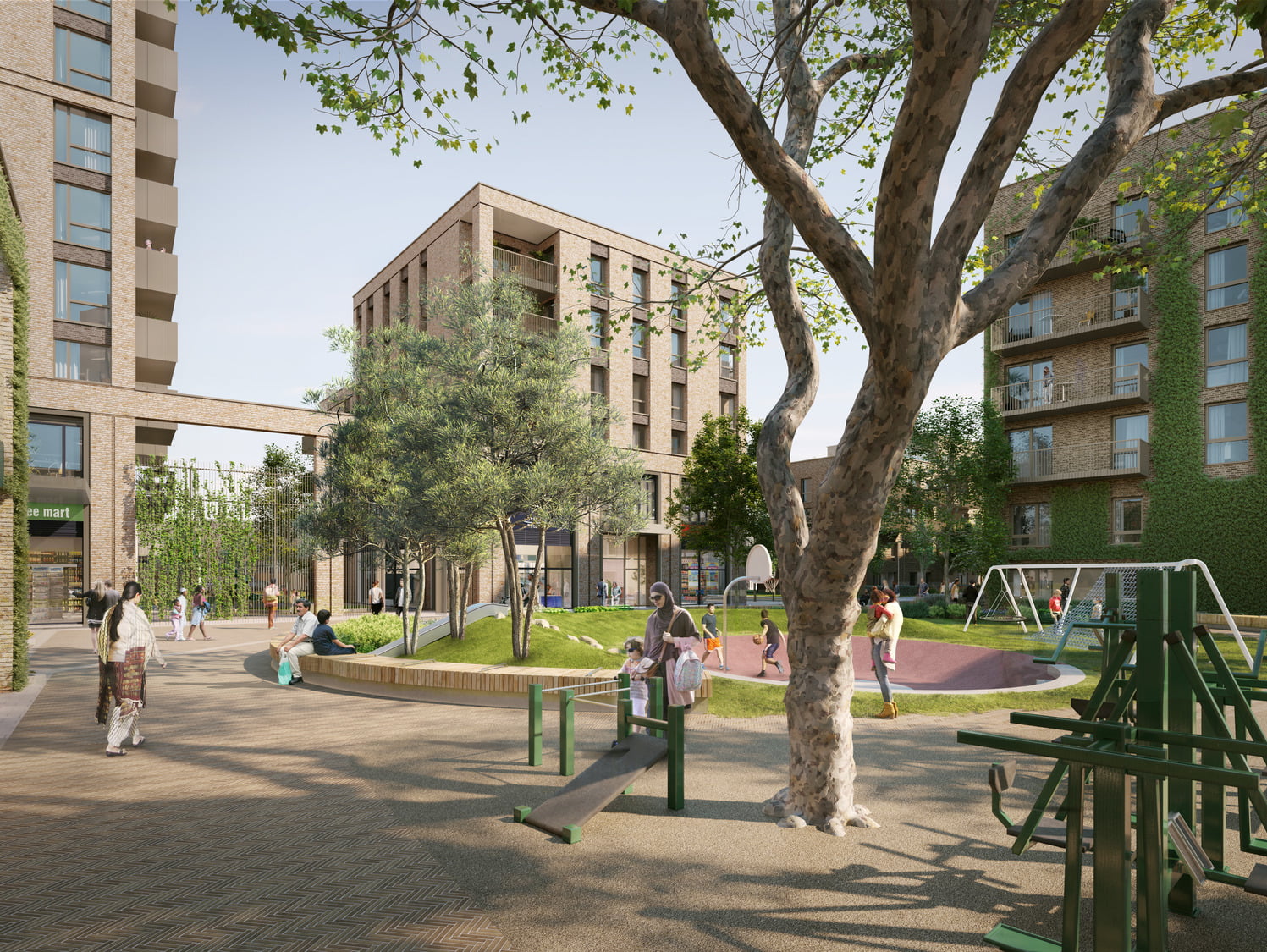 We're about to start on site with the delivery of 274 homes, with 115 available through London Affordable Rent and shared ownership at Stroudley Walk in Bromley by Bow – the new neighbourhood that we're creating with leading housing provider, Poplar HARCA, with support from the Greater London Authority.
Designed by RM_A Architects and to be built by McAleer & Rushe, the vibrant new place is focused on creating a safe and thriving community, complete with a new pocket park and part-pedestrianised street, with a new community café alongside other retail spaces for everyone to enjoy.
Isabelle Asante, senior development manager, said:
With our partners at Poplar HARCA and now with our contractor, McAleer & Rushe, we're committed to building a brighter future, together, to benefit everyone in the local area."
Our regeneration at Stroudley Walk provides a real opportunity to do this, with much-needed affordable homes, coupled with exciting, new public spaces, to create a safe and welcoming place for all."
Paul Dooley, director of development and regeneration at Poplar HARCA, said: "This a huge boost to the local community. Tower Hamlets residents will benefit from the creation of more affordable homes and community facilities they can be proud of."
Deputy mayor for housing and residential development, Tom Copley, said: "I'm delighted to see Poplar HARCA and Muse's work to create a vibrant new neighbourhood in Bromley by Bow get underway.
"This scheme will provide over 100 much-needed affordable homes in the area as well as a myriad of high-quality facilities including a brand new park, a community cafe and shops.
"Stroudley Walk is another step in our work to build a fairer and more prosperous London for everyone."
Jonathan O'Neill, senior director at McAleer & Rushe, said: "We are excited to deliver a thriving new neighbourhood of all-electric homes and a fantastic public realm space for all of the community to enjoy for years to come. This regeneration scheme represents our fourth project working with Muse and we are delighted to work in partnership with Poplar HARCA for the first time. It is important to us as a company to integrate ourselves in the communities we operate in, and we look forward to establishing a relationship with local residents and businesses to leave a lasting and positive legacy."
We're anticipating to complete the regeneration at Stroudley Walk in Winter 2025.
stories
Mentoring excellence: How Muse is shaping careers for female work experience students
stories
Grainger acquire second phase of Hale Wharf regeneration
stories
Community conversation for Earlestown regeneration
stories
PODCAST: Right place, right time
stories
Muse expands with new appointments in the Midlands
stories
Lewisham Gateway Part I: Reprioritising people and place
stories
Lewisham Gateway Part II: Unlocking an urban riverfront
stories
Slough – 10 Years of Regeneration
stories
One year as an apprentice at Muse
stories
Nurturing the next generation takes inspiration and opportunity