Nurturing the next generation takes inspiration and opportunity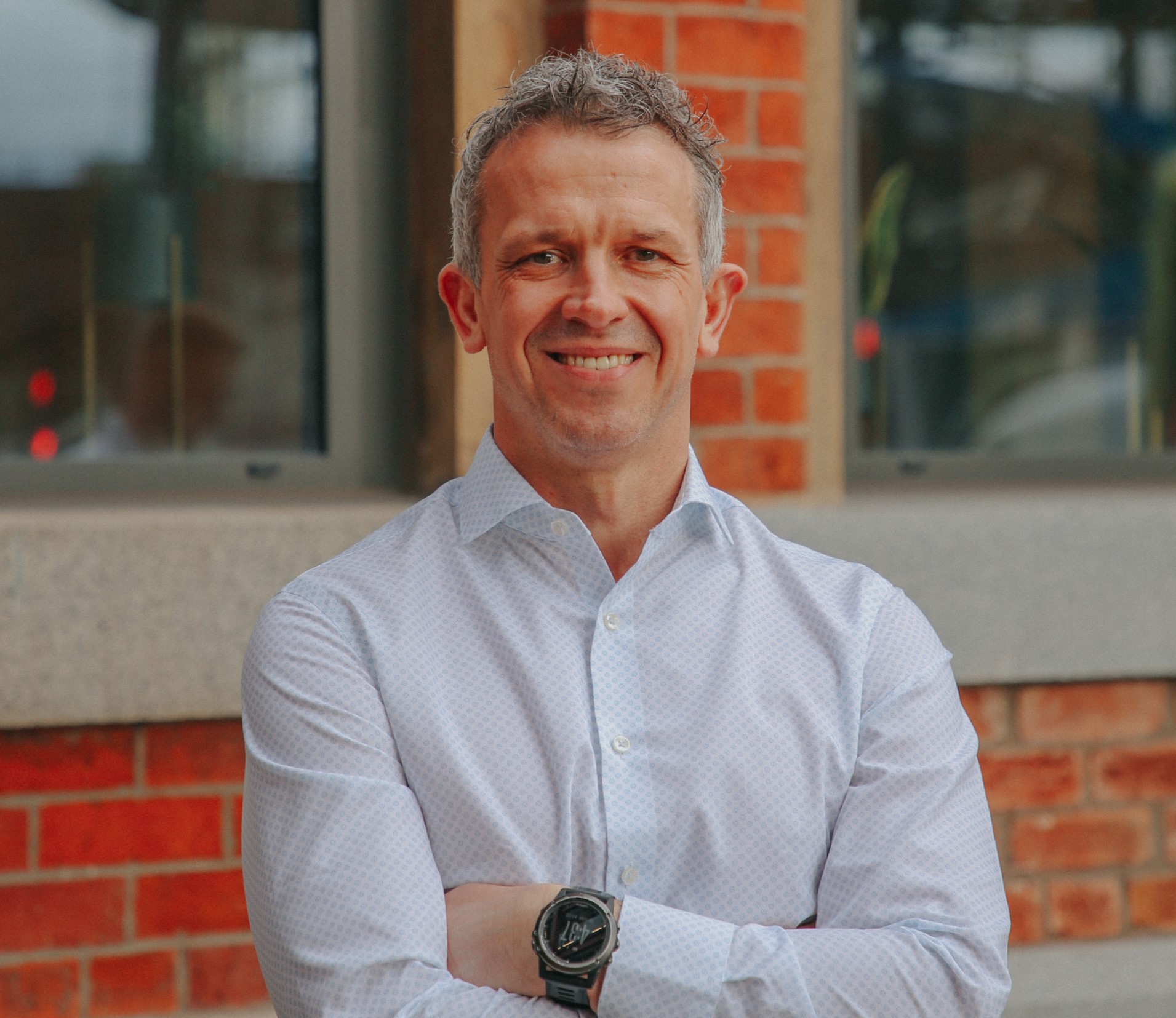 In this Q&A, our Managing Director, born-and-bred Oldhamer Phil Mayall, talks about why it's important, not just to inspire, but to create tangible opportunities for the next generation of placemakers.
How did you get into the business of placemaking?
It's fair to say, I always had an interest in buildings, but my route into the industry was completely accidental. Growing up in a relatively poor household in Oldham (my Dad was a plasterer, my Mum a sewing machinist), I had no idea this job existed, never mind picturing myself here or knowing what I needed to do to get here.
In my teens, my interests lay purely with rugby league and I set my sights firmly on becoming a professional rugby player. The distraction was such, shall we just say I didn't do as well in my GCSE's and A Levels as I would have liked! I actually got rejected by Oldham College at the time, funny how things come full circle, as I've now just accepted a place on their Board of Governors.
My Dad insisted my only option was to go out and get a job. So I took a labouring job, doing up a dilapidated cottage in Saddleworth. I can still remember how brutal the conditions were, up on the roof with the weather coming in from both sides. We were coming to work in three layers of clothing and we actually had to light a fire to stop the sand from freezing (not recommended and don't tell HSE!).
It was a chance encounter with a friend, who was studying at the University of Central Lancashire that led me to apply, and to be accepted onto their Building Studies HND. I passed with distinction having finally learned my lesson, and got onto their Building Surveying degree.
I was reminded of an experience a few years earlier, when a surveyor came round to value our house. The whole family was astounded that so much money could be earned in such a short space of time. I wanted a piece of that, please.
I started out surveying houses for a firm in Lytham, quickly moving onto commercial properties. Through doing that, I got to know someone working for an estate management and development company, where I then landed a job.
A role came up at Amec (Muse's previous incarnation) in 2006, and the rest is history as they say.
Why is it important not just to inspire young people, but create real opportunities?
It's very important to me to open up opportunities where they don't currently exist. When I was growing up in Oldham, traditional routes into the industry just didn't exist for me. I wasn't going to be getting work experience from a family friend. I hadn't done well in my GSCE's and achieved straight A's at A Level. Nobody came and did a careers talk about property and construction at my school or sixth form.
I really want us to remove some of that element of chance. I want young people from every background to have access to our world and to our industry. I want them to see people they can identify with, so they can imagine themselves in this space."
I want them to have the opportunity to come into our workplace and see what we're all about. To experience the world of work first hand.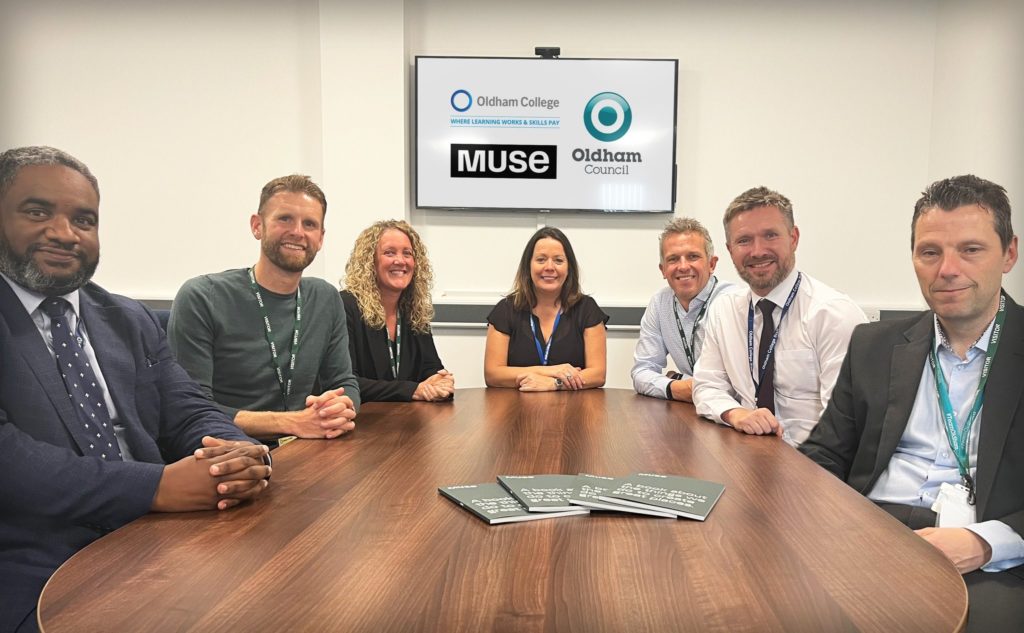 Muse's partnership with Oldham College aims to create opportunities
How will our partnership with Oldham College address this?
Our new partnership with Oldham College aims to do exactly this. At a very simple level, the students get to come into our office and see that this world can be for them. Being able to come in and see the reality, how it all works.
The focus is to help them in their career and life journey. Our aim is that they come out better equipped.
And very quickly, the hope is that they become ambassadors. They talk to their mates on a Friday night and say 'guess what I did this week?'.
We'll offer students studying for a T Level in Design, Surveying and Planning, the opportunity to work with us and other organisations in the built environment.
Each year, we'll offer two T-Level placements to students to work within our development and project management teams. The students will work across our range of projects in the region including our new place partnership with Oldham Council, which is directly opposite the college.
It will provide students with experience working with Muse, our design and professional consultant teams and offer a pathway into a career in the built environment.
It doesn't necessarily need to end up with them working at Muse. But through us, they can learn about every part of the industry, be in architecture, construction, quantity surveying, marketing or whatever takes their interest.
But even if Muse or the industry isn't for them, if we can teach them workplace skills, help them develop their confidence and show them the world of work, then we will have done our job.
What we want to do, is give these students access to opportunity.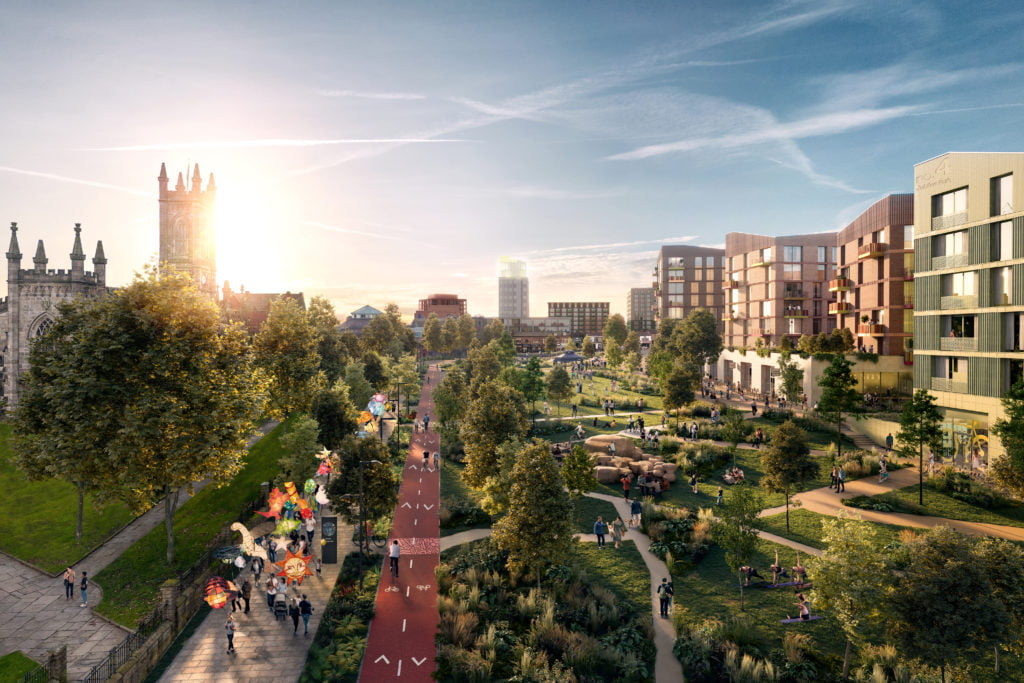 Our partnership with Oldham Council will create a neighbourhood with character, right in the heart of the town
How was your experience meeting the students when you visited Oldham College?
It was great to visit the college and meet the students in person. They are incredibly keen, and very bright.
What I hope is that by going into the college, with my familiar accent, the students will be able to see that this industry can be for them.
We're so looking forward to meeting more students and welcoming them to Muse.
And hopefully, this is just the beginning!
We enjoyed meeting the students whilst visiting the college
stories
Mentoring excellence: How Muse is shaping careers for female work experience students
stories
Grainger acquire second phase of Hale Wharf regeneration
stories
Community conversation for Earlestown regeneration
stories
PODCAST: Right place, right time
stories
Muse expands with new appointments in the Midlands
stories
Lewisham Gateway Part I: Reprioritising people and place
stories
Lewisham Gateway Part II: Unlocking an urban riverfront
stories
Slough – 10 Years of Regeneration
stories
One year as an apprentice at Muse
stories
Nurturing the next generation takes inspiration and opportunity