One City Park on track to complete summer 2023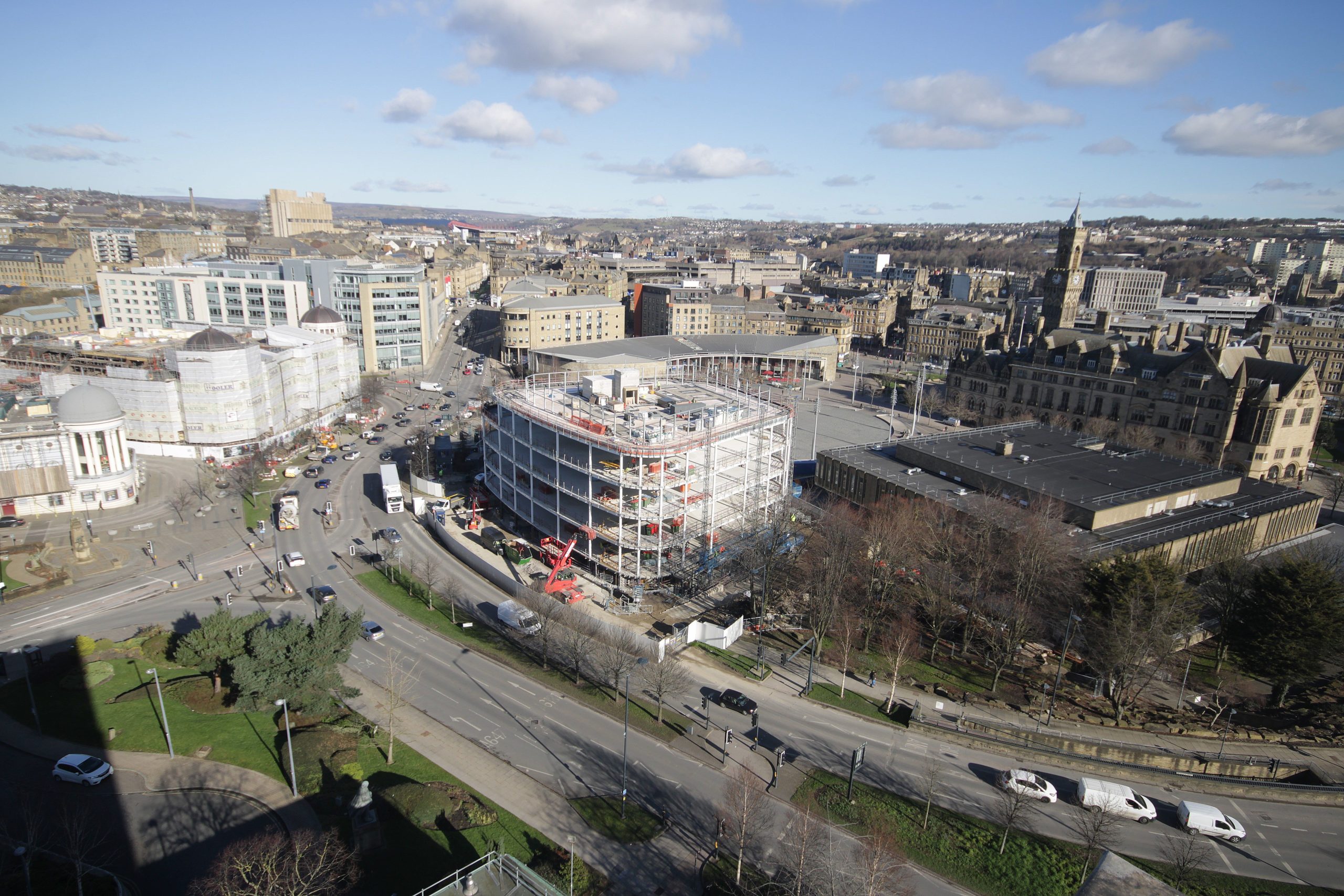 Work continues apace at One City Park – the 56,403 sq ft office building we're delivering with Bradford Council and Caddick Construction in Bradford city centre – and we're on track to complete in Summer 2023.
The striking glass and steel building will create sustainable office space across five floors. The steel frame – supplied and erected by Halifax-based Elland Steel – was completed in November and the aluminium cladding system, which frames the floor to ceiling windows, is well underway.
Externally, the retaining wall in front of the build has been demolished and work has begun on constructing new Spanish steps which will link the building to the stunning mirror pool and provide an attractive setting for people to meet, sit and enjoy the views over City Park – which is set to play a major role in the district's UK City of Culture programme in 2025.
Simon Dew, development director, said:
The skills and specialist knowledge of our extraordinary build team is enabling us to deliver this landmark scheme for the city on track which is an incredible achievement. We've had a strong stream of enquiries from potential occupiers – a confident sign that the demand for a modern, high specification office scheme in the city is there."
Bradford is a place where start-ups and growing SMEs can thrive, and that major corporates have proudly called their home for hundreds of years. The district has always cultivated an entrepreneurial spirit – and we hope that One City Park will become home to the next generation of innovators who will choose to live and work in the city, attracted by the opportunity to fulfil their potential here."
One City Park has been designed with modern businesses in mind, with flexible floor plates that can adapt to accommodate more agile working practices that promote wellbeing, and strong sustainability credentials.
In line with Bradford Council's 'Clean Growth Strategy', which is making sure that development in the city is sustainable, clean, environmentally regenerative and socially inclusive, One City Park will feature a range of green design elements, including high-performance glazing, solar panels and air source heat pumps to make sure the building operates on renewable energy. Every car-parking space includes an electric car charging point, coupled with secure cycle storage and changing facilities to encourage workers to take more sustainable and healthier modes of transport.
The building will feature a panoramic roof terrace offering superb views of the many civic and cultural buildings that surround City Park including City Hall, St George's Hall and new music venue, Bradford Live, which is currently undergoing a multi-million-pound transformation, as well as bars, restaurants and cafes. It will also complement other major capital developments in the city including the £23m Darley Street market scheme.
Councillor Alex Ross-Shaw, Bradford Council's executive member for regeneration, planning and transport, said: "One City Park entering the final phase of its construction marks an exciting moment in the district's continual transformation and really complements the wider regeneration of the city centre including the new Darley Street Market and the progress being made with the City Village at the top of town. It's a measure of our ambition for continual growth in the district."
stories
Mentoring excellence: How Muse is shaping careers for female work experience students
stories
Grainger acquire second phase of Hale Wharf regeneration
stories
Community conversation for Earlestown regeneration
stories
PODCAST: Right place, right time
stories
Muse expands with new appointments in the Midlands
stories
Lewisham Gateway Part I: Reprioritising people and place
stories
Lewisham Gateway Part II: Unlocking an urban riverfront
stories
Slough – 10 Years of Regeneration
stories
One year as an apprentice at Muse
stories
Nurturing the next generation takes inspiration and opportunity