One year as an apprentice at Muse
We caught up with our apprentice Raheim, as he celebrates his one-year anniversary at Muse.
Raheim spent two weeks at Muse doing work experience last summer before joining us as a Trainee Project Manager, alongside his Level 3 construction college course at Salford City College.
How did you get interested in property and construction?
I have to admit that watching programmes such Homes Under the Hammer and Selling Sunset is my guilty pleasure!
However, I would say I was first truly introduced to the industry by my Grandma, Patricia. She was the landlady of a pub in Moss Side called the Big Western which she owned for around 40 years, but sadly had to be closed during lockdown.
When I was growing up, there was often projects going on at the pub, which I would always get stuck into. From partitioning the room next to the bar, to renovating the outbuildings into a music studio and apartment, I always enjoyed seeing the construction process and being able to see nothing become something.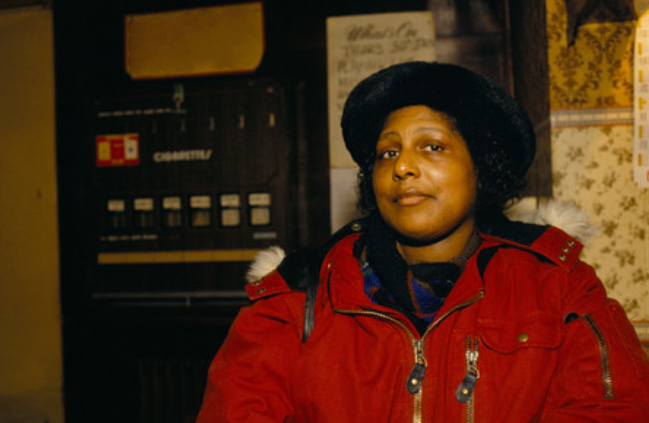 Raheim's Grandma Patricia in the Big Western pub
Off the back of this, from a young age, I wanted to be a property developer. I initially thought I would have to start as a labourer and work my way up. This is one of the reasons why I started working as a painter and decorator after finishing high school.
However, that all changed when I came to Muse in my summer holidays for two-weeks of work experience. Whilst being here I learnt more about the different roles and opportunities in construction which broadened my mind.
How have you found the past year at Muse?
To sum up the past year in one word, I would say it has been phenomenal.
The experience I have gained has been great. I've been involved in the early stages of a project such as interviews to select the preferred architect and joining in the design team meetings. I've also experienced the final stages of projects, such as being on site during the taking over process (practical completion) and the seeing the sense of relief and happiness coming from everyone because all their years of hard work has paid off.
Every day looks different for me. I really enjoy shadowing and supporting the project managers with tasks such as attending meetings, writing up minutes and notes, and assisting them in any way I can.
What's been the highlight?
It's quite hard to pinpoint the highlight, as there have been many great things I've been part of.
But being able to go to different businesses in the industry that Muse work closely with, such as a contract administrating company, quantity surveying firm, architects and a law firm was really enjoyable.
I got the chance to see how Muse's projects are approached from a different angle and to learn about things in more detail. I also liked to see how other businesses operate and meet new people, which meant I got to hear how they were exposed to the industry and how they got to where they are today.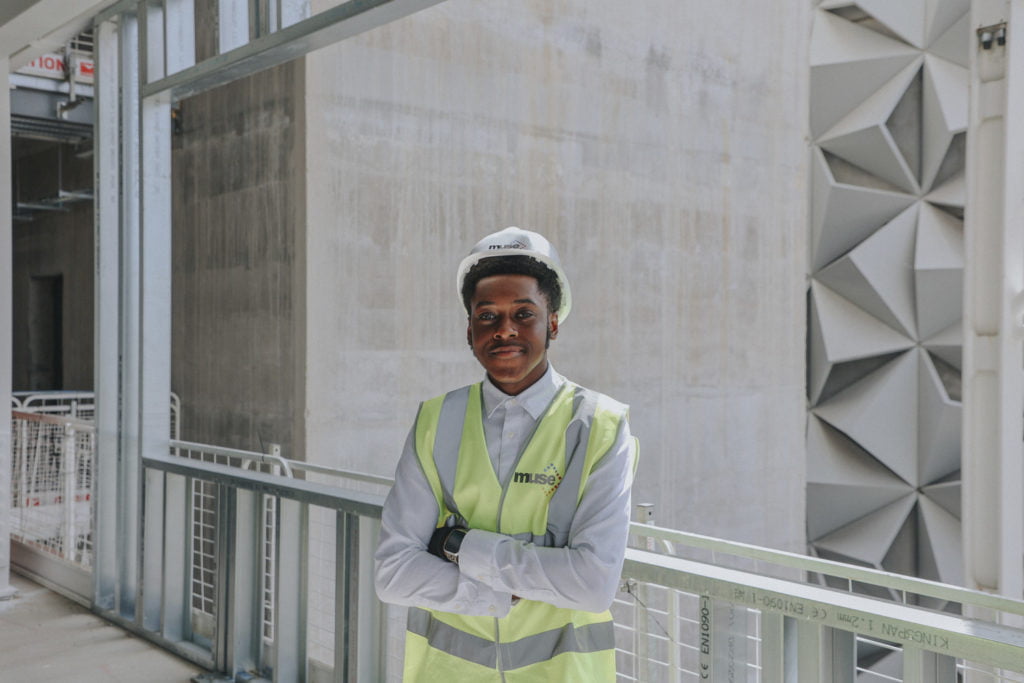 Raheim on site at Eden, New Bailey in Salford
What have you learnt?
I've learnt a huge amount over the past year. I've gained so much knowledge about the process of construction and its different stages.
I've learnt about a wide a range of things such as managing risks; planning applications and procurement processes; how to approach problems and challenges; health and safety; and how to manage design teams, clients, contractors and colleagues to see development projects through from concept to completion.
I've also learnt about the importance of communication and how powerful it is for things to turn out successfully. I've improved my people and communication skills and I've learnt workplace skills, which has helped me to develop my confidence and how to approach different scenarios.
What's been most surprising?
I would say the most surprising thing is seeing the whole process of a building a going up. The amount of meetings, coordination and communication that goes into each stage of a project is quite extraordinary as it's a huge amount of time, effort and resource put in even prior to starting on site. Since joining Muse, I have a greater appreciation for buildings, as I now know how hard the process can be and how much attention to detail is required.
What are your next steps?
Once I have completed my level 3 apprenticeship, I'd like to go onto a level 4/5 apprenticeship to start my degree in project management or quantity surveying. However, I am still exploring my options, so I feel definite in my final choice.
What would you say to others looking to get into the industry?
I would say just go for it! Do your research first and see what part of the industry interests you. Then try and get the relevant skills, experience and knowledge where you can before diving in.
Everyone I have met in the industry so far has been great and extremely helpful. They have all been willing to help me, so they will be willing to help you too!
stories
Five Minutes with Vytautas Bublys – an apprentice at Lewisham Gateway
stories
Lewisham Gateway Part III: Delivering a better place, from start to finish
stories
Mentoring excellence: How Muse is shaping careers for female work experience students
stories
Grainger acquire second phase of Hale Wharf regeneration
stories
Community conversation for Earlestown regeneration
stories
PODCAST: Right place, right time
stories
Muse expands with new appointments in the Midlands
stories
Lewisham Gateway Part I: Reprioritising people and place
stories
Lewisham Gateway Part II: Unlocking an urban riverfront
stories
Slough – 10 Years of Regeneration