Plans submitted for Crescent Innovation North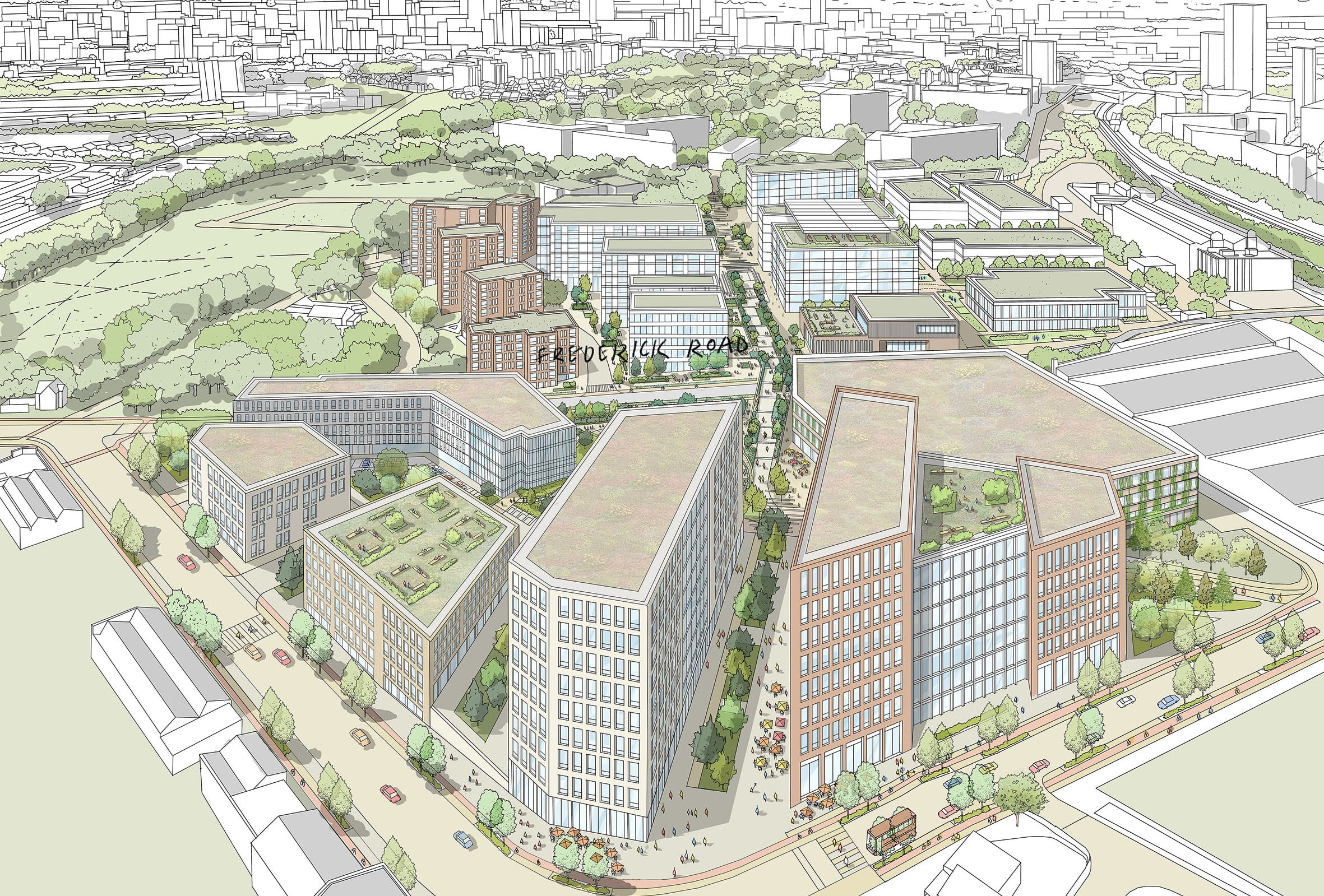 Following a major community consultation exercise, plans have been submitted to Salford City Council by our JV, The English Cities Fund (ECF), and the University of Salford to bring forward Crescent Innovation North – a key part of the wider £2.5bn, 252-acre Crescent masterplan.
Crescent Innovation North will bring forward up to 933 new homes, as well as 1.7m sq ft of new commercial innovation floorspace, academic and research floorspace, active ground-floor space, a new movement hub, along with significant improvements to public spaces.
Crescent Innovation North is where people, industry and academia will meet and will focus on creating a research, development and innovation campus at the university. Work has already completed at three world-leading university facilities – the North of England Robotics Innovation Centre, the Science, Engineering and Environment (SEE) building and Energy House 2.0.
Julian Stott, Development Director, said:
The vision for Crescent is unique and we're working hard for the people of Salford to turn that vision into reality."
People make place and Crescent Innovation North, as an important stage of major regeneration, will connect communities across the city to opportunities to enable them to thrive and prosper."
Together with the community, the university and the city council, we're forging ahead with our collective vision to create a robust and resilient Salford that's seen on a global stage as a leader of innovation, collaboration and placemaking."
Vice-Chancellor at the University of Salford, Professor Helen Marshall, commented: "This is another exciting step in bringing greater prosperity to our pioneering city, through innovation and applied research.
"This development will help facilitate collaboration across the region and help build a network of innovation support and development, to help businesses grow and become even more successful
Specifically for the university, it will offer a new way to engage with our long-standing partners and to develop and attract new partners."
Salford City Mayor, Paul Dennett, said: "It is fantastic news to see that our ambitious plans for Crescent Innovation North are moving forwards.
"With our Crescent partners – the English Cities Fund and University of Salford – we are pushing ahead with our vision to create world-class research and development facilities that local people and businesses can benefit from.
"The Crescent Innovation North proposals are a key element of the wider vision for the Crescent area and will change the face of the area through the creation of a high-quality innovation environment, where people can achieve their full potential."
The Crescent masterplan brings together the best of the public and private sector to bring forward a truly connected, sustainable and inclusive Salford for the future, through the delivery of over 3,000 homes, over 1m sq ft of space to innovate and collaborate, alongside 1m sq ft of offices, retail, leisure, a new multi-modal transport hub with active travel at its heart, set within vast areas of green space.
In May, ECF and the university submitted a planning application for a new development of 100 high-quality, affordable, sustainable, one and two-bedroomed Passivhaus apartments within a part five and part six storey building, on Peru Street in the heart of the city.
ECF is our strategic joint venture with Legal & General, one of the UK's leading financial services groups and major global investor, and the government's housing and regeneration agency, Homes England. The partnership was set up in 2001 to transform urban areas and create exceptional new places.
stories
VINCI named as contractor for first phase of St Helens regeneration
stories
Manor Road Quarter reaches highest point
stories
CASE STUDY: Measuring the placemaking impacts of housing-led regeneration
stories
£69.2 million investment confirmed by St Helens Borough Council
stories
Celebrating Brixton's heroic history
stories
Piecing together the jigsaw of Bromley-by-Bow
stories
Forge Island at Rotherham Show
stories
Second community conversation for Prestwich Village regeneration plans
stories
Helping Manchester towards a net zero future
stories
Salford Red Devils Foundation: changing lives through sport, health and education