Students inspired by Talbot Gateway visit
Alongside our partner contractor Vinci Building, we recently welcomed students and teachers from Brookfield Secondary School to the new Civil Service Hub in Blackpool – the latest phase of Talbot Gateway's £350 million regeneration which we're delivering with Blackpool Council.
Based close to Blackpool's railway station, Talbot Gateway is one of Blackpool's key arrival points for commuters and visitors alike. It's just a 10-minute walk to the famous promenade and North Pier with direct tram services to the sea front and other parts of the town.
When complete, the 215,000 sq ft, highly sustainable Civil Service Hub workplace will be home to more than 3,000 civil servants, bringing new people into Blackpool town centre and helping to boost the local economy.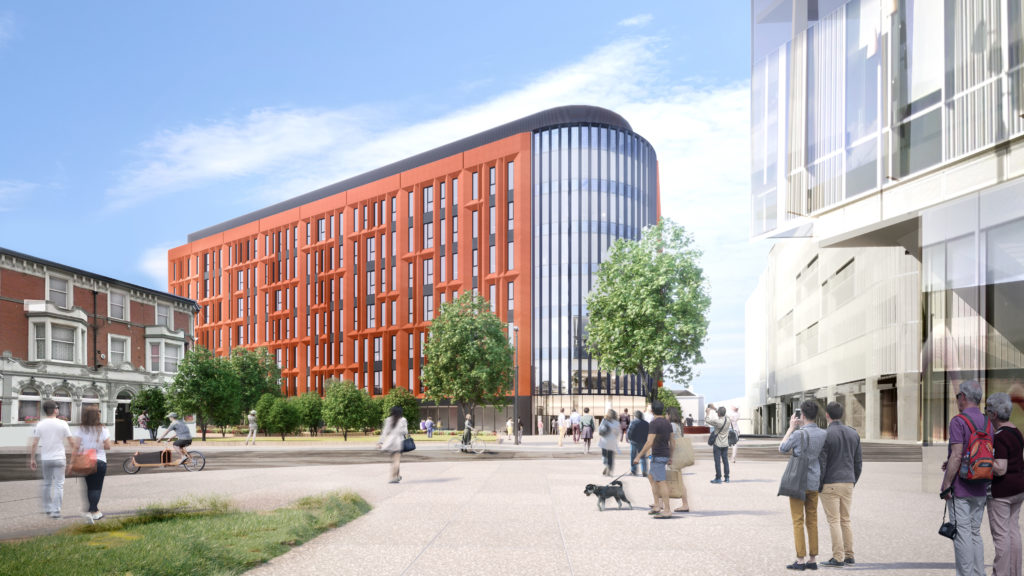 Talbot Gateway CGI
Brookfield Secondary School, which is based in Poulton-le-Fylde, caters for pupils with a wide range of needs and challenges linked to social, emotional and mental health, and contacted us as some of their Year 10 pupils are interested in careers in property and construction.
Alongside creating exemplar sustainable net-zero places, our vision is to maximise social value and enhance the environment for future generations. So, naturally, we were delighted to have the opportunity to welcome the school to Blackpool and help to inspire the next generation of placemaking and construction professionals.
As well giving the attendees a site walkaround, we presented an overview of what we're delivering, and talked about how we provide forward-thinking workplaces that enhance the quality of life for its occupants and the wider community.
We also shared our own journeys into property and construction with the students, before outlining the many career opportunities that exist within our industry.
Alan McBride, Muse Places Technical Director said:
Through all our work, our aim is to help build a brighter, kinder future, and we believe that sharing insights with the next generation is key to continuing our legacy as property developers and placemakers. It was a privilege to welcome Brookfield Secondary School on site in Blackpool to give them an insight into the transformational power of placemaking and we hope they left feeling inspired. "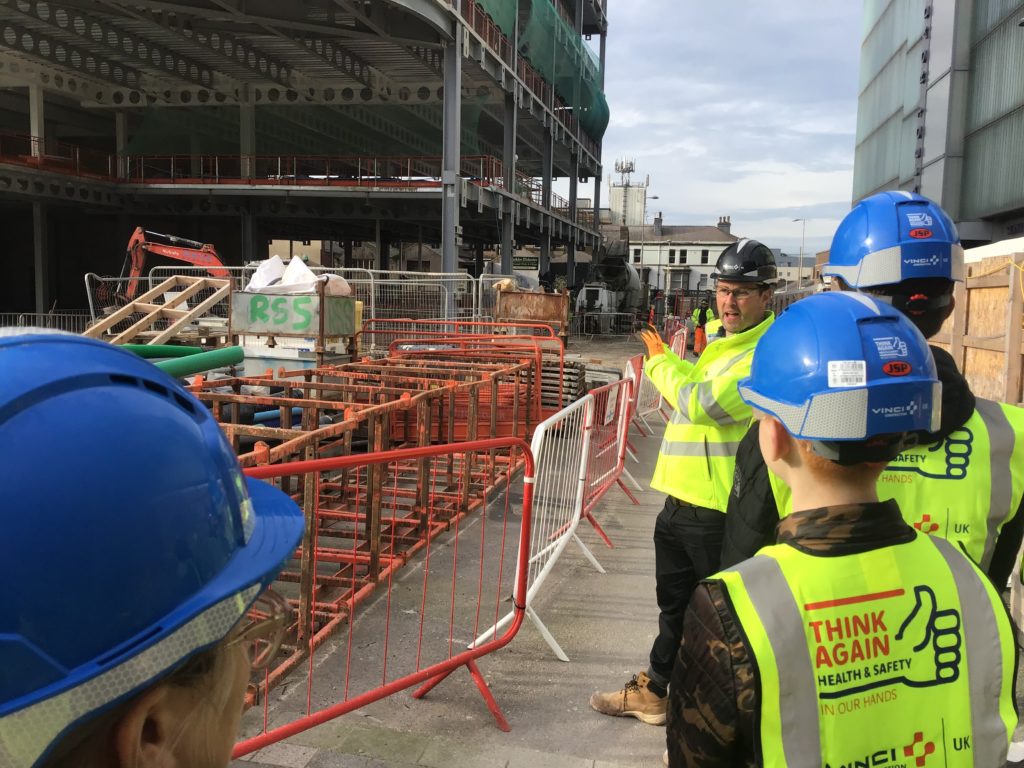 Students visiting Talbot Gateway
Joanne Mackie, pastoral manager at Brookfield School, said: "Thank you from myself, the staff and the pupils from Brookfield for the visit. The boys all got a lot from the morning and came back to school very impressed with what they had seen and heard about. The staff were also amazed by the sheer scale of the project!
"Sometimes it is difficult to find organisations that can engage proactively with pupils so we really appreciate you putting all the effort and time into them that you have done."
Students visiting Talbot Gateway
Our long-standing partnership with Blackpool Council has already delivered the 125,000 sq ft Number One Bickerstaffe Square council workplace, a Sainsbury's supermarket and a refurbished 650-space multi-storey car park, alongside extensive public spaces for the community to enjoy. We are also currently on site developing the 144 bed Holiday Inn Hotel.
stories
Mentoring excellence: How Muse is shaping careers for female work experience students
stories
Grainger acquire second phase of Hale Wharf regeneration
stories
Community conversation for Earlestown regeneration
stories
PODCAST: Right place, right time
stories
Muse expands with new appointments in the Midlands
stories
Lewisham Gateway Part I: Reprioritising people and place
stories
Lewisham Gateway Part II: Unlocking an urban riverfront
stories
Slough – 10 Years of Regeneration
stories
One year as an apprentice at Muse
stories
Nurturing the next generation takes inspiration and opportunity