Sustainability case study: St Helens town centre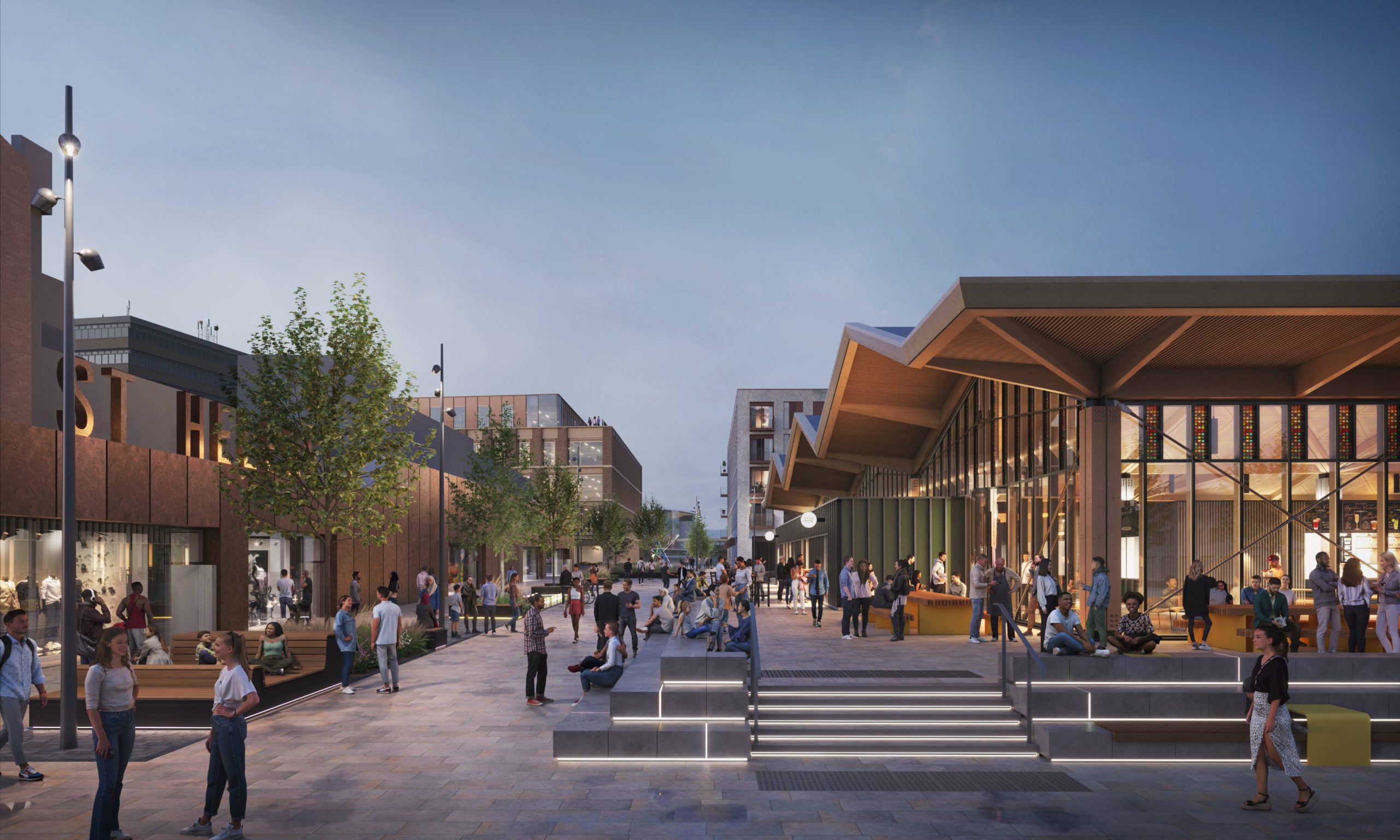 Together with our partners in the English Cities Fund and St Helens Borough Council, we are re-imagining St Helens Town Centre, placing the community and sustainability at the core. We are creating new connections to the town's rich industrial past as part of a 20-year regeneration plan.
By removing a tired shopping centre in the heart of the town, we have unlocked an opportunity to transform St Helens into an even more vibrant, safe, and people-friendly destination – powered by  sustainable transport.
Inspired by heritage, driven by innovation, supporting wellbeing
The first phase of the St Helens masterplan will see the delivery of a new timber frame office, a 120-bed internationally branded hotel, a new 22,000 sq. ft market hall, 64 homes, a new bus station and extensive public space. Later phases of development will also see a new public park delivered in the centre.
Inspired by the heritage of St Helens and its sporting and cultural assets, we have focused on place and people to create an authentic town centre. This includes the town's history as a global centre for glassmaking. We are making architectural glass a key feature in the new Market Hall.
Wherever possible, we aim to retain and re-use existing buildings and structures. For example, the existing M&S building will be re-imagined into new retail space, fronting a new public street, making the most efficient use of established assets.
All new homes have been designed to reduce energy bills and will meet the energy use intensity (EUI) performance of a Passivhaus building. The design of new buildings will deliver proven wellbeing benefits. The Market Hall and new office will use exposed structural timber to create a modern, wooden environment, which significantly reduces the embodied carbon of the buildings. This ambitious approach has an array of health and wellbeing benefits.
It includes increased creativity, focus and productivity, along with less stress, and enhanced moods. When this approach is used in workplaces productivity can increase by 8% and wellbeing by 13%.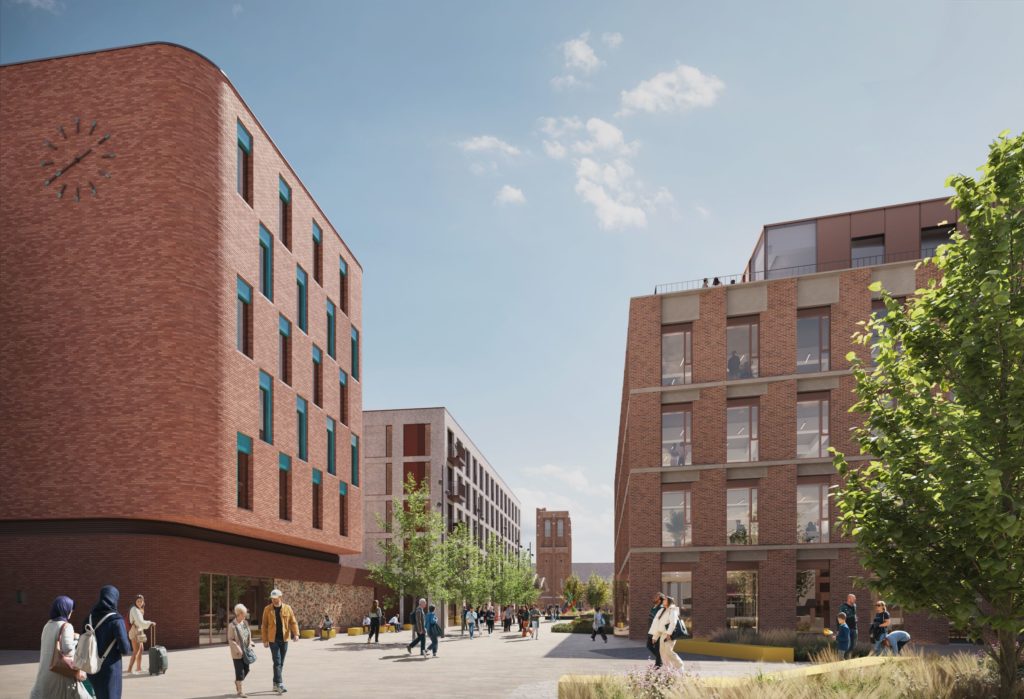 The future of St Helens town centre
Inviting nature to flourish
By re-imagining where a shopping centre once stood, we are creating new public space and inviting nature to flourish. Enriched by trees, plants and wildlife, the masterplan includes a biodiversity net gain of over 1000%.
We are bringing forward further landscape improvements to link Market Square and Earlestown Rail Station. Alongside a new bus station, which will be the destination for a hydrogen powered bus route. It will make the area better connected to public transport and encourage sustainable transport use.
As part of our commitment to excellence, we are also targeting the minimum sustainability accreditations of NABERS 5.5* for the office, and BREEAM Very Good, with the potential to improve this to 6* and Excellent respectively.
Bringing the community with us through social impact
Since engaging in St Helens, we have partnered with St Helens RFC's Saints Community Development Foundation to support inclusive cheerleading opportunities for people with disabilities.
Our team has also volunteered over 130 hours for the Cannington Shaw project. The project's ambition is to restore the No. 7 Bottle Shop in St Helens. The bottle shop is rich with heritage but has been neglected in recent years and is well-positioned for an exciting re-birth.
We have estimated that there will be a minimum £47million Social Value return, and we're genuinely committed to ensuring the benefits of our investment are felt by the local community, at every level.
stories
Mentoring excellence: How Muse is shaping careers for female work experience students
stories
Grainger acquire second phase of Hale Wharf regeneration
stories
Community conversation for Earlestown regeneration
stories
PODCAST: Right place, right time
stories
Muse expands with new appointments in the Midlands
stories
Lewisham Gateway Part I: Reprioritising people and place
stories
Lewisham Gateway Part II: Unlocking an urban riverfront
stories
Slough – 10 Years of Regeneration
stories
One year as an apprentice at Muse
stories
Nurturing the next generation takes inspiration and opportunity