Eden in Salford achieves UK first with record-breaking NABERS sustainability rating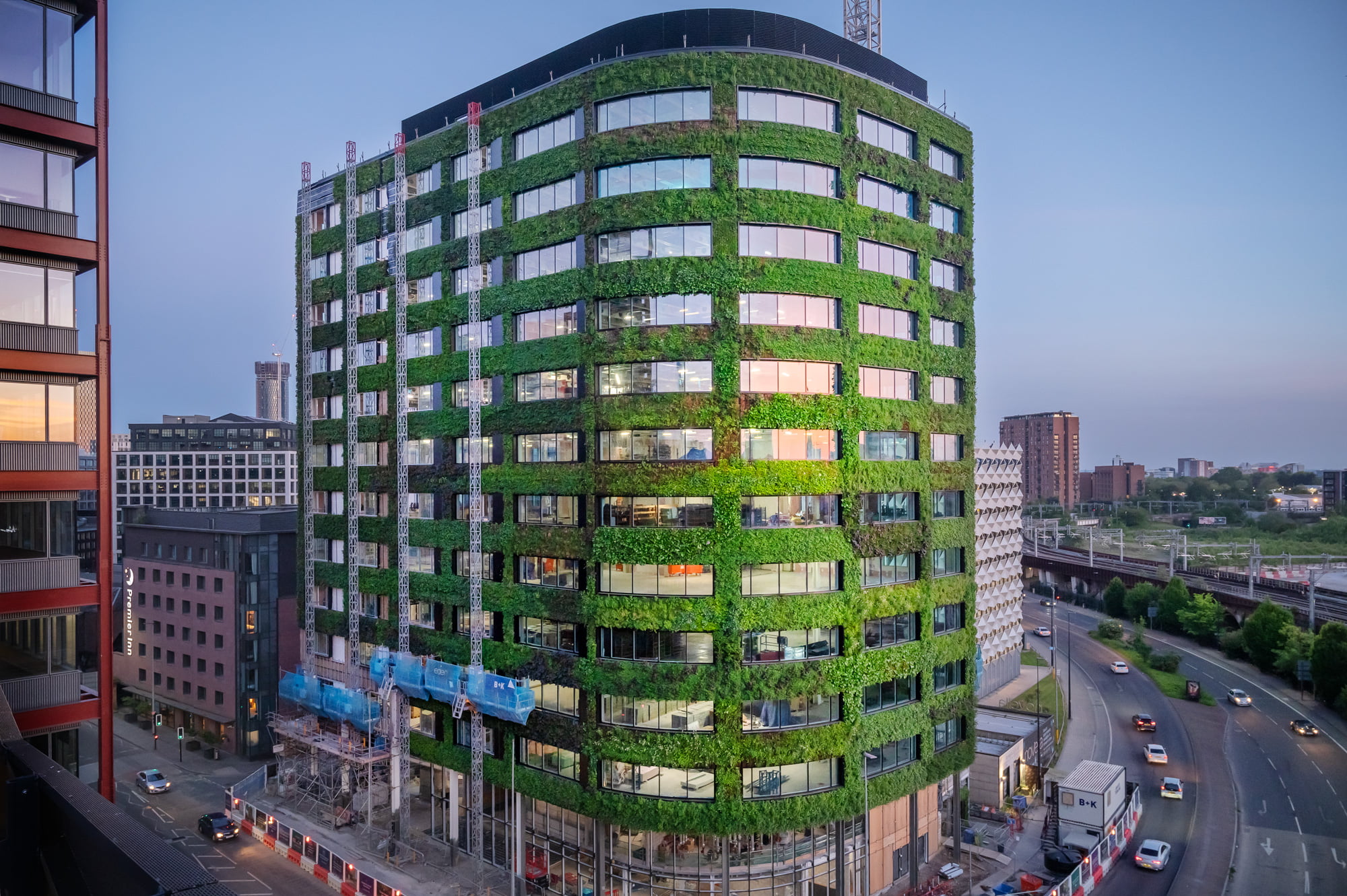 Eden, our £36 million, 115,000 sq ft 12-storey office building in New Bailey, Salford, developed by our JV with Legal & General and Homes England, The English Cities Fund (ECF), in partnership with Salford Council, has achieved a 5.5 NABERS 'Design Reviewed' Target Rating – becoming the first new build building in the UK to achieve this record-breaking certification. Eden is due to complete in late summer and brings a unique opportunity to businesses wanting to call one of the UK most sustainable buildings home.
What is a NABERS rating?
Like the efficiency ratings that you get on your fridge or washing machine, NABERS provides a rating for the energy efficiency of offices. Their one to six-star scale helps building owners to understand how their building performs compared to other buildings. To date, there are only 20 buildings that have been certified through the independent design review ranging from four to five-star rating, Eden is one of two with the highest 5.5 star target rating, with the other building being a refurbished building.
Once complete, Eden will be enabled to run solely on 100% renewable electricity, with no gas heating or hot water, and has been designed using the UK Green Building Council's 2030-2035 operational energy targets. Designed by Make Architects, Eden is also a LETI (London Energy Transformation Initiative) pioneer project (a group of projects that seek to achieve KPI targets in line with LETI's Climate Emergency Design Guide).
Phil Marsden, Director of Project Management (North West), said:
Eden's creation was motivated purely by the ambition to build the UK's most sustainable and environmentally considerate commercial building. We are thrilled with the result and have learnt so much; learnings we look forward to sharing with our sector to help build a brighter future, together."
What's Design for Performance?
The UK has historically had a design-for-compliance culture, which has led to a 'performance gap' between original design intent and how a building truly performs in-use. To counter this, Design for Performance is the process where a developer or owner commits to design, build and commission a new office development or major refurbishment to achieve a specific NABERS UK Energy rating during the project design and verify it once the building is operational through the NABERS UK Energy for Offices rating scheme.
What about whole-life carbon?
During Eden's inception, partners undertook early-stage, whole-life, and upfront embodied carbon assessments, to eliminate waste and reduce the building's whole carbon footprint. Sustainable materials have been used throughout Eden's construction where possible, such as recycled steel for reinforcement, 40% cement replacement for the substructure and 30% cement replacement for the superstructure. This results in Eden reducing its upfront embodied carbon intensity down to 662kgCO2/m2, compared with over 1100kgCO2/m2 for a typical development of this type.
Will Eden be smart enabled?
Eden will be kitted out with the latest in smart tech solutions to improve resource efficiency, with upgraded insulation in line with the Passivhaus standard, enhanced ventilation to improve the flow of fresh, clean air, along with an air source heat pump to provide low-carbon heating, hot water, and cooling.
What does it all mean for occupiers?
Simon Wyatt, partner, Cundall, and member of the UK Green Building Council's Members Advisory Committee, said: "Eden is truly ground-breaking in the world of construction –ECF has been innovative in the truest sense in how it has gone about reducing the carbon impact of the build and the building's eventual operational performance. What this means for occupants and investors is greater ROI – a happier, healthier, and higher performing workforce and work environment, reduced energy consumption, ESG targets hit and so forth… it is a win/win for all involved."
Eden is a key part of ECF's £1bn transformation of the Salford Central area of the city into a diverse mixed-use destination, complete with a bustling commercial district, alongside a vibrant community of homes and amenities, to provide something to suit everyone's needs.
Commenting, Paul Dennett, Mayor of Salford, said: "Our city has a proud history of innovation, from the first steamboat to the first swing aqueduct, and we are thrilled to add Eden to that list – a sustainable endeavour Salfordians will be working hard to add to for the benefit of our city and future generations to come."
Eden's stunning living wall is designed to remove air pollutants including carbon, reduce urban temperatures offering thermal benefits to occupiers, and deliver a 174% net gain in the biodiversity of the area, while at the same time providing high-quality vertical green space. Alongside this, the façade has a range of health benefits, with Eden designed to enhance occupier health, wellbeing, productivity and will embrace the WELL Building Standard principles, which aim to improve health and human experience through design. Eden is also one of a small number of LETI pioneer projects and is on target to achieve a BREEAM Outstanding rating.
stories
VINCI named as contractor for first phase of St Helens regeneration
stories
Manor Road Quarter reaches highest point
stories
CASE STUDY: Measuring the placemaking impacts of housing-led regeneration
stories
£69.2 million investment confirmed by St Helens Borough Council
stories
Celebrating Brixton's heroic history
stories
Piecing together the jigsaw of Bromley-by-Bow
stories
Forge Island at Rotherham Show
stories
Second community conversation for Prestwich Village regeneration plans
stories
Helping Manchester towards a net zero future
stories
Salford Red Devils Foundation: changing lives through sport, health and education