Forge Island at Rotherham Show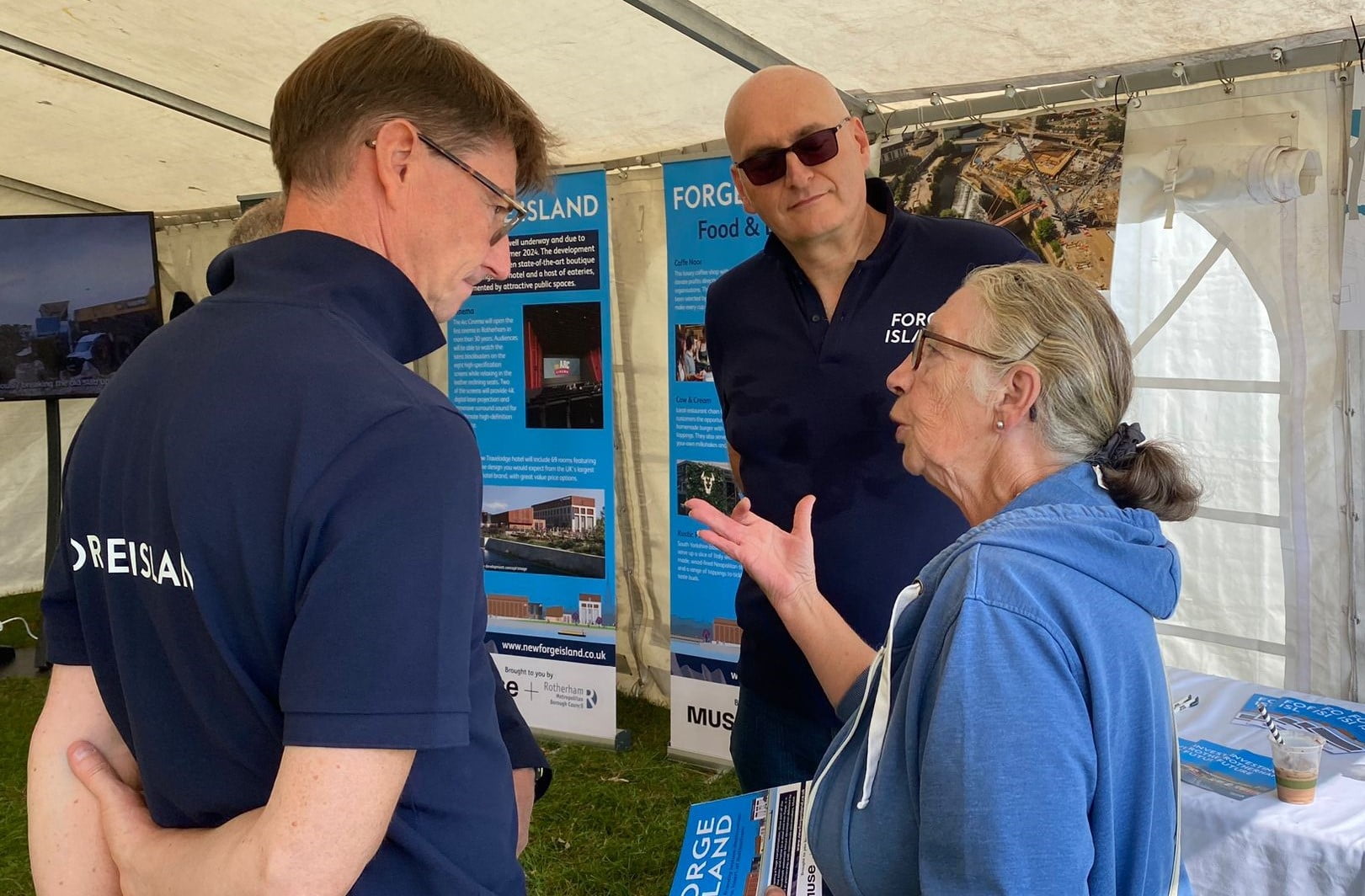 With anticipation mounting for Forge Island – a new landmark leisure destination we're delivering in Rotherham in partnership with Rotherham Council – opening next year, we had an incredible weekend talking to local people at the Rotherham Show.
The show is a major highlight in the town's cultural calendar, visited by more than 70,000 people every year. And with the sunshine out in force, it was a record-breaking two-day event with more than 88,000 descending on Clifton Park to experience the best of Rotherham's food, music, arts scene and more.
This was a brilliant opportunity to speak to the very people who are set to benefit from Forge Island, which will bring a much-needed family offer to the town including a hotel, five new independent food and drink venues and independent cinema operator – The Arc."
Our team spoke to more than 1,200 people over the weekend who flocked to our dedicated Forge Island marquee, with many expressing excitement for the new foodie venues including pizza restaurant, Rustic Pizza, as well as the first cinema in Rotherham for more than 30 years.
People were also keen to hear about new public realm being created including the Council's plans for Riverside Gardens which will bring much-needed new green spaces and play areas to the town centre, as well as forming a key gateway to Forge Island. Accessibility was top of mind for many, and we could put their mind at ease talking through key elements including ramped access, oversized lifts to accommodate wheelchairs and scooters as well as a planting scheme designed with families and those with disabilities in mind.
A sandpit, giant soft building bricks, PPE dress-up and magnetic puzzle provided by lead contractor, Bowmer + Kirkland, were a huge hit with little ones, and the Rotherham Skills People Group were also on hand to chat to people about all the opportunities for young people in the construction sector.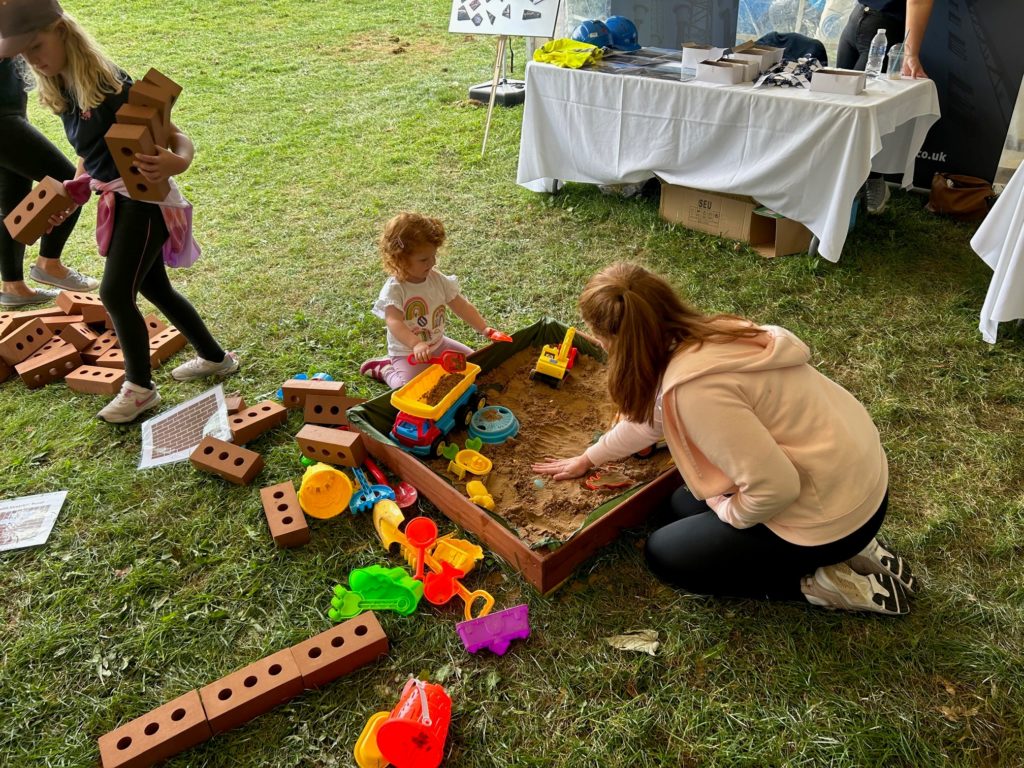 Inspiring the next generation at Rotherham Show
As well as looking forward to what's to come at Forge Island, visitors were also able to go back in time thanks to archaeologists from BWB Consulting who took people through the incredible history of this place – which began life as a steel and iron forge – brought to life with historical artefacts found during the excavation of the site.
It was fantastic to see that the local community were genuinely interested to know more about the sustainability credentials of Forge Island – which is being developed at an important riverside location. Our team had ample opportunities to talk about everything from the protection of local wildlife to solar panels on buildings and feats of engineering that are part of our flood prevention measures. Forge Island has also been designed to take advantage of future opportunities to be connected to the town's planned low-carbon Rotherham Energy Network.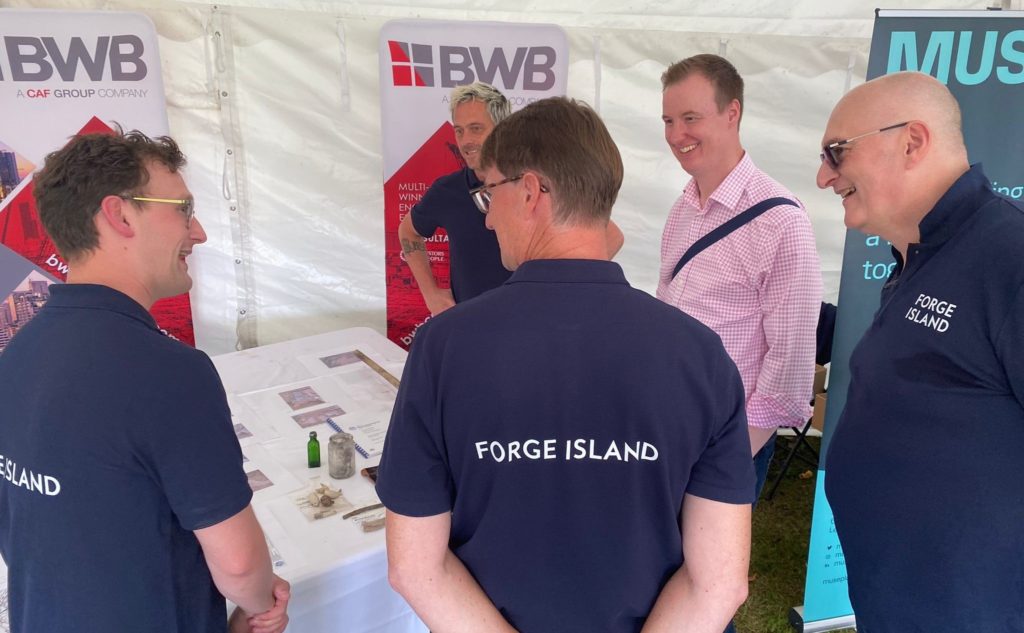 The Forge Island team at Rotherham Show
All in all, it was an incredible weekend and a reminder of why speaking and listening to the local communities that we are creating new places in and for, are such an important part of the journey. Thanks again to all our partners who helped make the event such a huge success.
stories
VINCI named as contractor for first phase of St Helens regeneration
stories
Manor Road Quarter reaches highest point
stories
CASE STUDY: Measuring the placemaking impacts of housing-led regeneration
stories
£69.2 million investment confirmed by St Helens Borough Council
stories
Celebrating Brixton's heroic history
stories
Piecing together the jigsaw of Bromley-by-Bow
stories
Forge Island at Rotherham Show
stories
Second community conversation for Prestwich Village regeneration plans
stories
Helping Manchester towards a net zero future
stories
Salford Red Devils Foundation: changing lives through sport, health and education