Muse becomes principal community partner of Blackpool Football Club Community Trust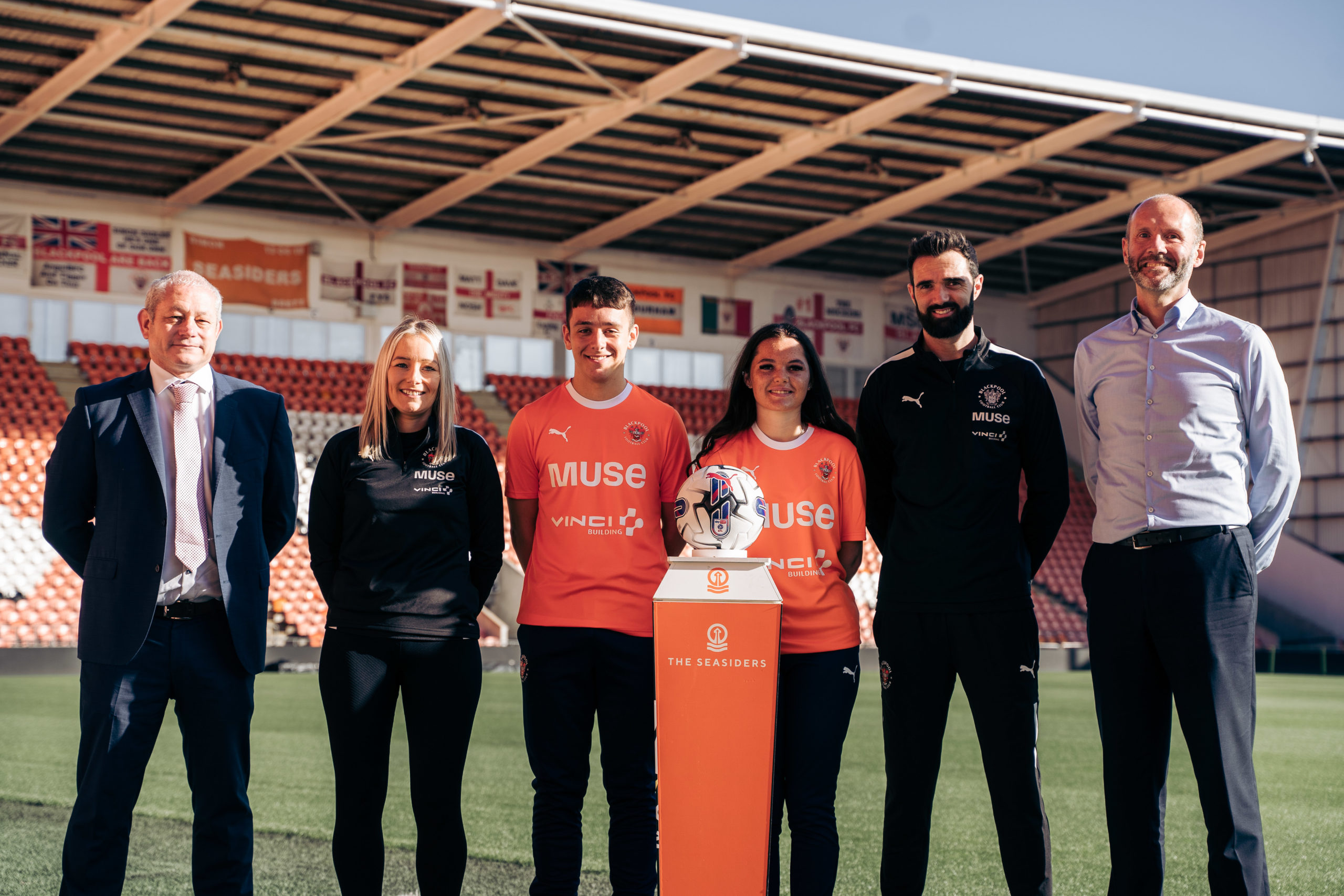 We're delighted to announce that we've signed an agreement to be Blackpool Football Club Community Trust's principal community partners for the 23/24 and 24/25 seasons, with our Talbot Gateway office contractor, VINCI Building.
Currently we're working with Blackpool Council to deliver the £350m regeneration of Talbot Gateway, which is repositioning a key area of the town centre as an exciting new commercial and leisure quarter.
Alongside VINCI, we're on site with a new £100m, 215,000 sq ft, highly-sustainable office building, which will become a new regional home for the Civil Service in Blackpool town centre. Once complete the new building will house 2,500 civil servants, bringing significant footfall back into the town centre.
Our long-standing partnership with Blackpool Council partnership has already delivered the 125,000 sq ft Number One Bickerstaffe Square council office, a Sainsbury's supermarket, a refurbished 650-space multi-storey car park, alongside extensive public spaces for the community to enjoy. We're also close to completing a 144-bedroom Holiday Inn hotel and new tram interchange.
We're committed with VINCI Building to providing opportunities for people in the town, with this significant investment aiding the community trust's ongoing work even further, which reached over 17,000 individuals during 22/23.
As part of this exciting new partnership, our branding will appear on all community trust staff uniforms and Blackpool FC Sports College football kits over the the next two seasons.
Alan McBride, Technical Director, said:
Supporting local communities through our work, is one of our key drivers as a business and we're excited to launch our new partnership with Blackpool F.C's Community Trust, alongside our contractor, VINCI Building."
Regeneration isn't just about bricks and mortar, it's about delivering a meaningful impact and leaving a long-term positive legacy that benefits everyone. To accelerate this, we partner with local organisations like the Community Trust that are already integrated within our towns and cities. We're looking forward to working with our new partners over the next two years, providing a wealth of opportunities for local people to thrive."
John Roberts, Managing Director at VINCI Building, said: "We welcome the opportunity to support Blackpool Football Club Community Trust in partnership with Muse, strengthening our ties with the people of Blackpool and wider Fylde Coast region. Our involvement with Blackpool goes back over 10 years. We have also created a Community Skills Centre on the Talbot Road project site to support employment into the construction industry for Blackpool".
Blackpool Football Club Community Trust CEO, Ash Hackett, added: "With funding becoming a greater challenge year-on-year for charities, support like this partnership with Muse and VINCI Building is fantastic and a great way to build new partnerships.
"What became clear at the start of our conversations was how enthusiastic and committed both parties were to support the town and help make a difference to our community. We're really excited to work closely with both Muse and VINCI Building over the course of the next two seasons."
stories
Mentoring excellence: How Muse is shaping careers for female work experience students
stories
Grainger acquire second phase of Hale Wharf regeneration
stories
Community conversation for Earlestown regeneration
stories
PODCAST: Right place, right time
stories
Muse expands with new appointments in the Midlands
stories
Lewisham Gateway Part I: Reprioritising people and place
stories
Lewisham Gateway Part II: Unlocking an urban riverfront
stories
Slough – 10 Years of Regeneration
stories
One year as an apprentice at Muse
stories
Nurturing the next generation takes inspiration and opportunity