Partners gather at Blackpool Civil Service offices to celebrate progress
We joined together on site with our partners, Blackpool Council and contractor Vinci Building, to celebrate progress on the latest phase of our place-changing £350m Talbot Gateway transformation – a new £100m, 215,000 sq ft, highly-sustainable office building, which will become a new regional home for the Civil Service in the heart of Blackpool town centre.
More than 3,000 public servants will relocate to the seven-storey building, when it completes, which is anticipated to be in the first quarter of 2025.
The new offices will bring new people to the town, boosting trade to local businesses, retailers, restaurants, cafes and leisure facilities, alongside a wealth of new job opportunities for local people, along with excellent sustainable transport connectivity through train, bus and tram.
Alan McBride, projects director, said:
We're delighted to see the core of the building coming out of the ground, which as important milestone in the creation of this fantastic facility for the Civil Service and one that we should celebrate. "
As a business, we're committed to creating places with purpose that create opportunities for communities to thrive and prosper, and we're looking forward to seeing this striking building progress over the coming months."
We're delighted to be playing such pivotal role with the council in delivering our shared vision for building a Blackpool that's resilient and ready for the future."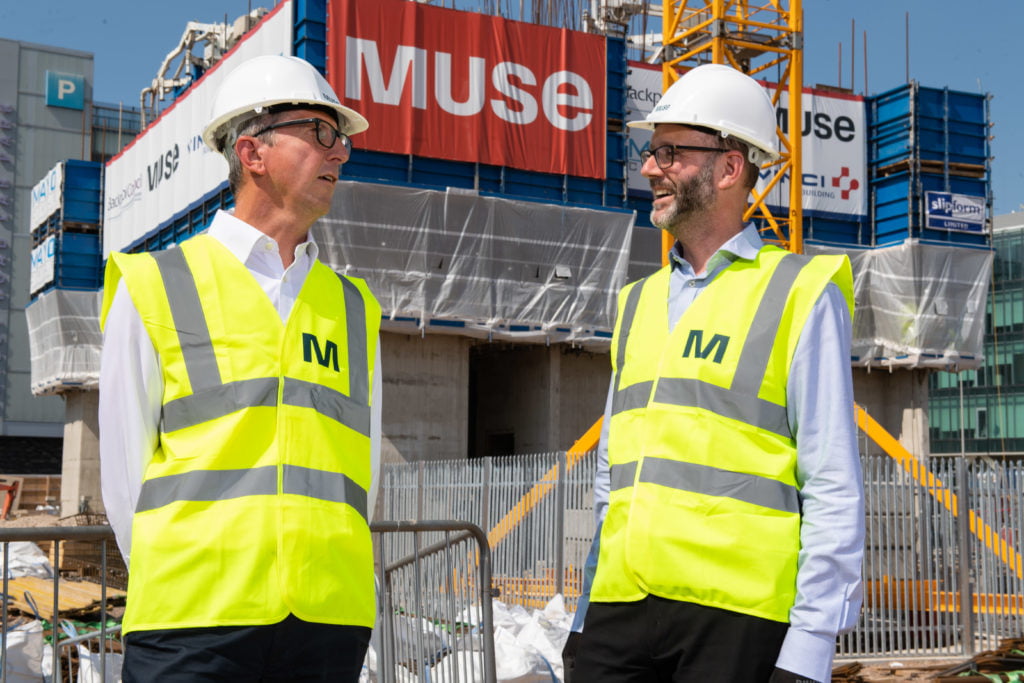 Mike Horner and Alan McBride talk about the latest milestone at Talbot Gateway.
Cllr Lynn Williams, Leader of Blackpool Council, said: "The new Civil Service hub is a major piece in our plan to develop the area around Blackpool North train station, bringing thousands of professional workers into the town centre who will spend money in local businesses, in turn creating new jobs and economic growth which makes Blackpool better for us all.
"It's great to see the speed of this development and the build is progressing every single day with dozens of workers on site. We will now start to see the building really rise from the ground over the next few months, which will show real progress.
"Alongside the new development at the Holiday Inn, our future plans for the Multiversity, the improvements to our early evening economy with the first phase of Abingdon Street Market recently opening and The Backlot Cinema and Diner to follow this year, this will be a really exciting time for the town."
Tony Grindrod, contracts manager at VINCI Building, said: "VINCI Building are delighted to see the superstructure starting to rise out of the ground on the Blackpool King Street project which is being undertaken in Partnership with Muse and Blackpool Council. The project has been on site for around four months now and soon the main steel frame will commence followed by the building façade later this year.
"VINCI Building have worked very hard with the client team to enhance the sustainability credentials of the project by utilising ultra-high strength concrete on the façade panels to minimise material use plus the utilisation of numerous other sustainable techniques and innovations. VINCI with our supply chain partners have also set up a Community Skills Centre that will be used to train a number of young people from the local area and we are all very excited about this initiative taking shape over coming months."
The new building has been designed by renowned architects, Make, to BREEAM "Excellent" standard, which means it will operate on low energy and promote both sustainable development and wellbeing. Alongside the new building, we'll create a new town centre square with cycle and pedestrian routes, close to the new tram interchange at Blackpool North Station. The interchange forms part of phase two of Talbot Gateway along with a new 144-bedroom Holiday Inn hotel, which will open in time for Easter next year, creating 50 new full-time jobs to the town.
We took an inclusive approach to sustainability from the outset, to make sure the building will be as energy-efficient as possible, with high levels of insulation and air source heat pumps to provide low-carbon heating and cooling. Demand-driven ventilation will improve indoor air quality, while at the same time allowing energy savings during times when the building is not occupied. We also completed early-stage whole life and upfront embodied carbon assessments, to eliminate inefficiencies where possible and reduce the building's whole carbon footprint. This aims to reduce the building's upfront embodied carbon intensity to 800 kgCO2e/m2. compared with 1100kgCO2e/m2 for a typical office development.
Our long-standing partnership with Blackpool Council, has already delivered the 125,000 sq ft Number One Bickerstaffe Square council office, a Sainsbury's supermarket and a refurbished 650-space multi-storey car park, alongside extensive public spaces for the community to enjoy.
stories
VINCI named as contractor for first phase of St Helens regeneration
stories
Manor Road Quarter reaches highest point
stories
CASE STUDY: Measuring the placemaking impacts of housing-led regeneration
stories
£69.2 million investment confirmed by St Helens Borough Council
stories
Celebrating Brixton's heroic history
stories
Piecing together the jigsaw of Bromley-by-Bow
stories
Forge Island at Rotherham Show
stories
Second community conversation for Prestwich Village regeneration plans
stories
Helping Manchester towards a net zero future
stories
Salford Red Devils Foundation: changing lives through sport, health and education