Stockport MDC secures The English Cities Fund as partner in £250m transformation
Stockport Mayoral Development (MDC) has today announced The English Cities Fund (ECF) – our JV with Legal and General and Homes England – as its preferred long-term joint venture partner to develop an eight-acre site, known as Stockport 8, in Stockport town centre.
Stockport MDC and ECF will invest over £250million to transform the town centre site in Greater Manchester into a new digitally enabled, green and fully walkable neighbourhood, which is set to deliver over 1,200 new homes, alongside retail, leisure, and office space.
The announcement comes less than a year since the opportunity launched to market at UKREiiF in 2022 and is the latest milestone in Stockport MDC's Town Centre West masterplan – an integral part of the town centre's £1billion investment programme.
Lord Kerslake, chair of Stockport MDC, said "It speaks volumes about the strength of the opportunity in Stockport that, within just one year of starting our search for a new development partner for Stockport 8, we have secured a long-term joint venture with ECF.
"The interest from the industry was overwhelming, but ultimately, ECF demonstrated a shared long-term vision for the site, and for Stockport. This vision was one that clearly reflects the ambitions laid out in our Strategic Business Plan, including a way forward that delivers against our guiding principles of community, sustainability and innovation, and, most importantly, one that best serves the needs of local people. Added to this, ECF's shared ethos for public and private sector collaboration, and it was clear that ECF was the right partner for this next phase in Stockport's transformation.
"Work to deliver the Town Centre West masterplan is continuing at pace, with a number of our landmark schemes such as the Interchange, Weir Mill and the latest phase of Stockport Exchange, completing this year and next. This latest milestone is another major step forward in our plan to create one of the most liveable town centres, not only in the region, but in the UK."
Sir Michael Lyons, chair of ECF, said:
We welcome this opportunity to be a part of an ambitious programme of town centre regeneration, and to play an important role in the long-term growth and ambition of Stockport."
We are pleased to be working in partnership with Stockport Council and the local mayoral development corporation. We understand what can be achieved with strong local leadership, effective collaboration between public and private sectors and patient investment. Our shared emphasis on quality homes, public realm, and commitment to creating an inviting place bodes well."
A planning application for the site will be submitted in Summer 2024, with a target completion of the first phase by Summer 2027.
Stockport 8 is adjacent to two other landmark developments within the Town Centre West masterplan. These include Stockport Interchange – a major redevelopment of the former bus station into a state-of-the-art transport hub, with new homes and a two-acre rooftop park, by Transport for Greater Manchester – and Weir Mill – a waterfront heritage building that is being restored, to create new homes and a leisure and culture destination for the town.
Cllr Mark Hunter, leader of Stockport Council, said: "Stockport Council and ECF are united in our goal to deliver genuine, long-lasting social value. We were impressed by ECF's commitment to an inclusive approach, in order to best unlock the potential of Stockport 8 and deliver a mixed-use neighbourhood that will help existing and future communities to thrive in Stockport. Between Weir Mill and Stockport Interchange, this new neighbourhood will complement our other major developments, as well as deliver new jobs and contribute to a vibrant town centre."
Established by Greater Manchester Mayor, Andy Burnham, using powers devolved to the Greater Manchester Combined Authority, Stockport MDC was the first Mayoral Development Corporation to be created with a focus on town centre regeneration.
The plans for the Town Centre West masterplan, for which Stockport MDC is the delivery vehicle, will see the creation of up to 4,000 new homes, 1million sq ft of new employment space, major public transport improvements, new green space and local amenities over the next 15 years.
To date Stockport MDC, in collaboration with its partners, has helped to successfully deliver more than £175million of development, with initial phases attracting new businesses to the town centre.
The plans for Town Centre West will inject an additional £5.9million in business rates and £117million in GVA into the local economy every year.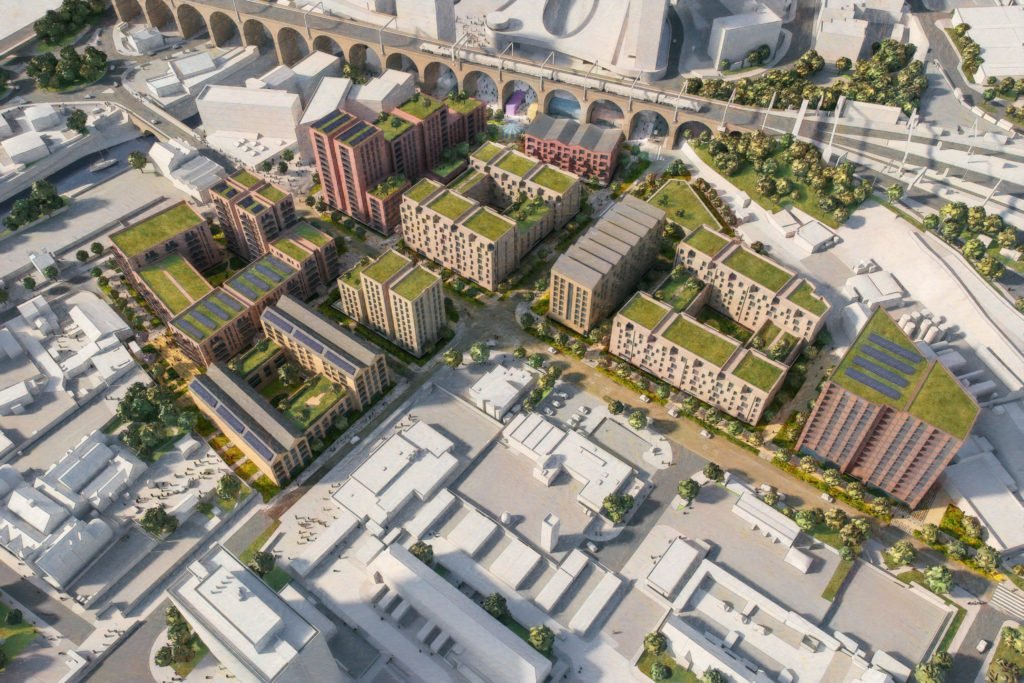 An artists' impression of Stockport 8.
stories
Mentoring excellence: How Muse is shaping careers for female work experience students
stories
Grainger acquire second phase of Hale Wharf regeneration
stories
Community conversation for Earlestown regeneration
stories
PODCAST: Right place, right time
stories
Muse expands with new appointments in the Midlands
stories
Lewisham Gateway Part I: Reprioritising people and place
stories
Lewisham Gateway Part II: Unlocking an urban riverfront
stories
Slough – 10 Years of Regeneration
stories
One year as an apprentice at Muse
stories
Nurturing the next generation takes inspiration and opportunity